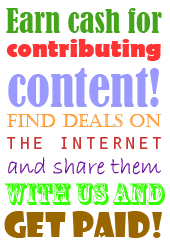 Showing freebies 1 to 10 of 2121
Free Phone Unlocking Service from 3 Mobile

| Category: Mobile Phones
Ends: Fri 19th Dec 2014
It's not everyday that a mobile service provider is happy to help you unlock your phone from the clutches of their network so that you can use any SIM you like. We've found this page on the 3 Mobile web site that lets 3 Customers unlock their phone easily online.
More Info - Hits: 128 - Votes: 0


Free Pair of Heeleys Shoes

| Category: Kids & Toys
Ends: Mon 15th Sep 2014
Frubes have teamed with ASDA to give away a load of amazing freebies including Trampolines, Stomp Rockets, Heelys Shoes, Asda Monkey Bank Vouchers, Monster Skateboard and helmet and safety pads. Just enter on the ASDA web site linked.
More Info - Hits: 1228 - Votes: 1


Free Back to School Guide

| Category: Education
Ends: Sat 30th Aug 2014
Going back to school after the holidays can sometimes be a drag but it needn't be. If your kids have got the blues about school then head over to the Pacey web site linked and download you free guide on preparing your child for school for some great tips and hints on helping the next few weeks go smoothly. There are also activity sheets to download.
More Info - Hits: 92 - Votes: 0


Free Elizabeth Shaw Chocolate Flutes

| Category: Food & Drink
Ends: Tue 30th Sep 2014
To share their love of chocolate, Elizabeth Shaw are giving you 5 chances to win 5 of their Chocolate Flutes each week between now and 30th September 2014. Flavours include deliciously tempting Cappuccino, Amaretto, Cocoa Crunch, Orange and Mint.
More Info - Hits: 1160 - Votes: 1



Free Total Sweet Diabetes Friendly Dessert Recipe...

| Category: Books & Magazines
Ends: Tue 28th Oct 2014
Total Sweet have teamed with Fiona McDonald Joyce, one of the UK's leading nutritional chefs, to create nine recipes which allow those on low sugar, low fat diets to enjoy all the flavour and sweetness of classic tea time treats and puddings whilst still following the dietary guidelines for diabetics. Just pop your email in the form linked to get your free download.
More Info - Hits: 264 - Votes: 0

Free Pilot FriXion Pen Sets

| Category: Home & Garden
Ends: Mon 29th Sep 2014 -

On Facebook
Play the Pilot Pen game on facebook for your chance to get one of a load of free prizes they are giving away including iPod Nanos, iPod Shuffles and load of Pilot Pen Sets.
More Info - Hits: 1916 - Votes: 0


Free Magazine Storage Box from B&Q

| Category: Kids & Toys
Ends: Sun 24th Aug 2014
On Saturday 23rd and Sunday 24th August B&Q are opening their doors to children for their 'Kids Can Do It Workshop' to make a Magazine Storage Box with professional guidance and the best part is they can keep it to take home.
More Info - Hits: 134 - Votes: 1


Like us on facebook for another way to stay in the loop and never miss a freebie, competition or amazing deal.