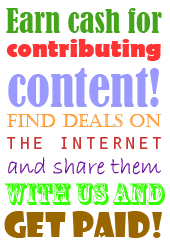 Showing freebies 1 to 10 of 1443
Free Tempur Travel Pillow

| Category: Home & Garden
Ends: Wed 30th Apr 2014
The Free Tempur Traditional Travel Pillow giveaway is back on this time at Furniture Village. Just pop into your nearest store and try out the new Tempur Collection and test the new mattresses. No purchase required! Find your nearest store on the site linked. Plus if you signup to the Furniture Village mailing list they will give you a free £10 voucher.
More Info - Hits: 699 - Votes: 0




Free Packs of Seeds from The Works

| Category: Home & Garden
Ends: Sat 26th Apr 2014
The Works members can claim a free 4 pack of seeds using the coupon linked to. If you are not a member you can pop into your local store to apply for one for free then use the coupon.
More Info - Hits: 521 - Votes: 0


Free Cargo Provence Eye Shadow

| Category: Health & Beauty
Ends: Fri 18th Apr 2014
It's Day 17 in the Glamour Giveaway, today they have this beautiful free Cargo Single Eye Shadow in Provence up for grabs. Enter for your chance to get this freebie.
More Info - Hits: 270 - Votes: 0


1000 Free Nectar Points (worth £5)

| Category: Money & Finance
Ends: Thu 15th May 2014
First Group have signed up all of their rail franchises to Nectar. Get 1000 Free Nectar Points (worth £5) by registering with all of the First Group rail franchises in the UK and then linking your Nectar card to them. Links below.
More Info - Hits: 32 - Votes: 0


Free Cadbury Eggsplorer Activity Pack

| Category: Kids & Toys
Ends: Fri 25th Apr 2014
Keep your family entertained during the Easter holidays with this activity pack from Cadbury. Enjoy some arts and crafts, play outdoor games or try baking some delicious treats. There is also a easy-to-use and fun-filled Trail Pack to help you to put together your own Easter Egg Trail at home.
More Info - Hits: 879 - Votes: 1




Like us on facebook for another way to stay in the loop and never miss a freebie, competition or amazing deal.