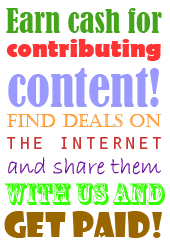 Showing freebies 1 to 10 of 3097
Win Kerry Gold Vouchers

| Category: Food & Drink
Ends: Sat 28th Mar 2015 -

On Facebook
Tell Kerry Gold how you like your eggs in the morning by posting on the facebook page linked and they will select 3 people to receive a voucher to use on a load of Kerry Gold products. I like mine sunny side up on a slice of toast buttered with Kerry Gold. Yummy!
More Info - Hits: 208 - Votes: 0

Free Shaun the Sheep Soft Toys

| Category: Kids & Toys
Ends: Thu 30th Apr 2015
You need to buy a promotional pack of Muller Kids Corner for your chance to get one of these brilliant freebies. There are 100 a day to be had until the end of April, and all you have to do is enter your unique code from your pack on the web site linked.
More Info - Hits: 283 - Votes: 0

Free Packs of Haribo Super Mix Sweets

| Category: Food & Drink
Ends: Tue 31st Mar 2015
Vote for your favourite Haribo Flavour for your chance to win one of two Apple IPAD Mini 2 16gb. Plus there are loads of runners up prizes of 160g bags of Haribo Super Mix.
More Info - Hits: 1001 - Votes: 1



Free Nancy B's Science Club Black Light...

| Category: Kids & Toys
Ends: Wed 8th Apr 2015
Over on the National Geographic Kids web site they have 38 Nancy B's Black Light Illuminators and Nature's Mysteries Journals up for grabs! Use the special lamp to identify rocks, minerals and flowers that glow under ultraviolet light. Very interesting and educational.
More Info - Hits: 400 - Votes: 0

Free Business Cards from Moo

| Category: Miscellaneous
Ends: Fri 10th Apr 2015
Moo trial Business Cards look and feel the same as their regular cards, and use the same paper so they make a great freebie if you only need a few cards. All you have to do is design your own pack and they will despatch them to you. Delivery is free!
More Info - Hits: 214 - Votes: 0



Free Solar Panels For Your Home

| Category: Home & Garden
Ends: Sat 30th May 2015
A Shade Greener are a BBC recommended, government initiated scheme that are giving away free solar panels and installation, worth up to £14,000. If eligible you could save yourself a fortune in energy bills.
More Info - Hits: 4 - Votes: 0

Free 'Hello Spring' Taylor's Coffee

| Category: Food & Drink
Ends: Sun 5th Apr 2015
Hello Spring is Taylor's Coffee new limited edition roast and to celebrate it's launch they are running a fab competition giving away a luxury break for two. Plus everyday they will be selecting a load of people to receive a free pack of their new coffee roast.
More Info - Hits: 1200 - Votes: 0


Free Rimmel London Nail Polish

| Category: Health & Beauty
Ends: Tue 31st Mar 2015

On Twitter
On the Rimmel London Twitter page are giving away free stuff to everyone who shares their must have accessory using #Rimmel60Seconds and they will send you a 60 seconds nail polish to match or clash.
More Info - Hits: 386 - Votes: 0


Like us on facebook for another way to stay in the loop and never miss a freebie, competition or amazing deal.