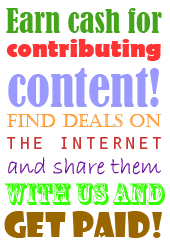 Showing freebies 1 to 10 of 2384
Free Verm-X Pet Treats

| Category: Pets & Animals
Ends: Thu 30th Oct 2014
Verm-X produce natural intestinal hygiene products for animals, complete their form in order to select your free Verm-X sample. They have products for all sorts of pets so check it out.
More Info - Hits: 671 - Votes: 0


Free Health Advice Cards

| Category: Books & Magazines
Ends: Wed 26th Nov 2014
Modern living can be quite difficult to keep up with as well as keeping the health and well being of you and your family in check. This useful booklet from the Open University features some very helpful ideas on how to stay well while navigating your complicated and busy life.
More Info - Hits: 12 - Votes: 0


Free KiddyCharts Reward Chart

| Category: Kids & Toys
Ends: Mon 17th Nov 2014
Everyone knows children respond well to reward charts so get tooled up with some free KiddyCharts from KiddyCharts.com. Your little ones will be scoffing down those veg in no time.
More Info - Hits: 14 - Votes: 0


Free Dr. Organic Snail Gel Skincare Products

| Category: Health & Beauty
Ends: Tue 21st Oct 2014 -

On Facebook
Try your luck at winning one of the brand new Dr. Organic snail gel skincare products on the Hollan & Barrett facebook page linked. You could bag yourself either a Snail Snail Gel Cream, Snail Gel Hands & Nail Elixir, Snail Gel Facial Serum OR Snail Gel Eye Serum. Good luck freebie hunters!
More Info - Hits: 468 - Votes: 0






Free Yakult 2015 Calendar

| Category: Home & Garden
Ends: Fri 31st Oct 2014
It's about time another free calendar offer came up. This time it's from Yakult. They have 100 Yakult branded 2015 Calendar's to give away and one lucky winner will also get a free Alarm Clock. Just answer a simple question to be entered into the draw.
More Info - Hits: 757 - Votes: 0


Like us on facebook for another way to stay in the loop and never miss a freebie, competition or amazing deal.