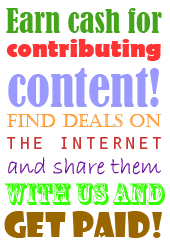 Showing freebies 1 to 10 of 5314
Open Farm Sunday June 5th 2016

| Category: Entertainment
Ends: Sun 5th Jun 2016
June 5th 2016 is a date for the diary because it's Open Farm Sunday, the farming industry's annual open day. A day when hundreds of farmers all over the country welcome visitors onto their farms to discover the world of farming. It's a great day out for the whole family so worth checking where your nearest one if.
More Info - Hits: 84 - Votes: 0

Free Entry to Bournemouth Air Show

| Category: Entertainment
Ends: Mon 22nd Aug 2016
Another one for the diary. The Bouremouth Air Festival have just announced dates for their free air show (Thursday 18th August to Sunday 21st August). Entry is free, see details on the page linked.
More Info - Hits: 45 - Votes: 0

Free Viktor & Rolf Spicebomb Perfume

| Category: Health & Beauty
Ends: Wed 15th Jun 2016
Viktor & Rolf are again giving away free samples of their popular men's perfume 'Spicebomb'. To get your free sample simply become a member of their secret service by signing up to their newsletter and following the instructions. You can then expect a free sample to arrive within 28 days.
More Info - Hits: 322 - Votes: 0


Free Salters Dog Food

| Category: Pets & Animals
Ends: Sun 5th Jun 2016
Want your dog to try a new and nutritious dog food? Well Salters are giving away free sample packs. Just pop in a few detaisl and a sample pack will be posted out to you pronto - woof woof!
More Info - Hits: 266 - Votes: 0

Free Baby On Board Badge

| Category: Miscellaneous
Ends: Sat 31st Dec 2016
If you're pregnant and have to travel on the Underground having a Baby on Board badge makes it easier by letting other passengers know that you have a very good reason to need a seat. Head over to the page linked and request yours today.
More Info - Hits: 20 - Votes: 0

Win 1 of 2 Premium Sushi Kits

| Category: Home & Garden
Ends: Thu 16th Jun 2016
You don't have to be a knife wielding sushi master to make lovely sushi. You just need a sushi kit. Enter this competition on the Great british Chefs web site for your chance to win 1 of 2 premium sushi kits, courtesy of Japan Centre and worth over £130 each.
More Info - Hits: 94 - Votes: 0



Free Lego Goodie Bag from Smyths Toys

| Category: Kids & Toys
Ends: Sun 29th May 2016
Smyths Toys are having events in every UK store and you're invited to come along and join the fun! There will be a free LEGO goodie bag for every child on Saturday 28th May, 9am – 1pm. It's also half term and May bank Holiday weekend so no excuse to not treat the little ones. Be there or be square.
More Info - Hits: 82 - Votes: 0

Free Wildflower Seeds from Just Bee

| Category: Home & Garden
Ends: Mon 30th May 2016
Right now bees are struggling to survive and Just Bee Drinks are determined to do something about it! They are giving away free packets of wild flower seeds to anyone that asks and they want you to plant them in your garden. Just fill in the form on their web site and they will fly some free wildflower seeds to your door!
More Info - Hits: 322 - Votes: 0


Free Doughnut from Krispy Kreme

| Category: Food & Drink
Ends: Mon 15th Aug 2016
It's good to be friends with Krispy Kreme because they treat their friends right. Just register on their web site to become a friend and they will send you a voucher for a free Original Glazed Doughnut. Plus they will send you a free sweet birthday treat every year on your birth day. What's not to like?
More Info - Hits: 112 - Votes: 0


Like us on facebook for another way to stay in the loop and never miss a freebie, competition or amazing deal.