How to make your eyelashes look longer
You don't need an expensive mascara to make you natural lashes stand out. Youtuber Beautification BY Marta has made this brilliant how-to video on the best way to make your eye lashes appear longer than they are already. There are some brilliant tips and tricks on how to make your natural eyelashes appear longer and fuller without making it so clumpy with mascara. There are loads of very close up shots that make it easy to see exactly what she's doing to make her lashes pop.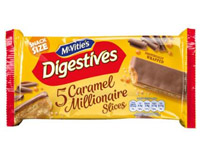 Free McVitie's Digestives 5 Caramel Millionaire Slices
We've got a bundle of these McVitie's Digestives 5 Caramel Millionaire Slices to give away and they are just to die for! For your chance to get a free pack of these digestive slices topped with caramel and milk chocolate just complete the form below.
More Fashion Videos