Top 10 Best Makeup Brands
Their are so many amazing Make up brands out there, which makes it super hard to deicide on which brand is the most superior to them all whether that is Mac, Dior, L'Oréal and so on... Maybe there isn't a 'Best' brand of makeup, just different ones that suit different people. Anyhow, YouTube Channel Wellborn TV has provided us with a top 10 video on the best Make Up Brands in the world - in her opinion. Maybe this will help you decide if you want to try something new.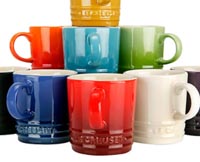 Free Le Creuset Stoneware Mugs
We're giving away free Le Creuset Stoneware Mugs. These scratch resistant mugs are grill, microwave, mven & dishwasher safe. Le Creuset is known for their sleek, sophisticated design, and they will add colour and character to any kitchen. Just pop your details in the form below.
More Health & Beauty Videos