How to make homemade cat food
YouTuber, The Hungry Cowboy has made this awesome video for you cat owners to watch on how to make homemade cat food. The video shows you three simple homemade meals to make for your cat which include sardines, crushed carrots, and porridge. Pricey cat food is great but when you're short on supply or short on cash, making your own cat food can be a real money saver and it doesn't hard to switch your cat's diet up a bit. Variety is the spice of life isn't it?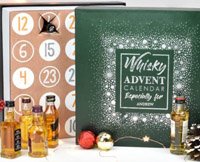 Free Personalised Whisky Advent Calendar
Pop your details in the form below for the chance to get one of these Personalised Whisky Advent Calendars worth £136 and containing 25 50ml bottles of blended and single malt whisky.
More Pets & Animals Videos