Bowmore Whisky Review
If you've never heard of Bowmore whisky before, you may not be alone but rest assured they are a top brand of whisky with quite a pedigree. Have a watch of this video from Whisky.com (who better?) as they take this whisky through a taste test and deliver some background on the brand. We've actually tasted this 12 year old Bowmore whisky and we can tell you first hand that it's excellent. Really good on it's own if you are a seasoned whisky drinker but if you're new to whisky then try it with coke or ginger beer and enjoy the deep taste of this whisky mixed with a bit of sweetness to help it go down nicely. Walks all over a JD & coke.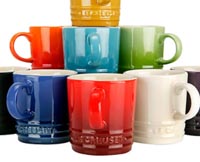 Free Le Creuset Stoneware Mugs
We're giving away free Le Creuset Stoneware Mugs. These scratch resistant mugs are grill, microwave, mven & dishwasher safe. Le Creuset is known for their sleek, sophisticated design, and they will add colour and character to any kitchen. Just pop your details in the form below.
More Food & Drink Videos