How to cook Broccoli spears
Do you need help with cooking delicious broccoli spears to absolute perfection every time? This 3 minute video from Chef Ricardo Cooking shows you the best way to cook broccoli spears. You will never overcook or under cook your broccoli ever again. Plus, these skills you learn in this video are transferable to some other vegetables too.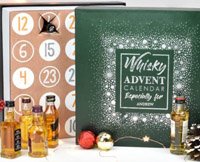 Free Personalised Whisky Advent Calendar
Pop your details in the form below for the chance to get one of these Personalised Whisky Advent Calendars worth £136 and containing 25 50ml bottles of blended and single malt whisky.
More Food & Drink Videos