Best Ice Cream makers
You looking for a new ice cream maker to make some delicious homemade ice cream? Then watch this video that shows you ten of the best ice cream makers in 2020. This video shows you all the specific features each of the ten ice cream makers have to help you decide on what is the best machine for you to make this delicious snack with.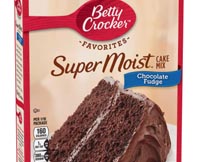 Free Betty Crocker Super Moist Chocolate Fudge Cake Mix
From bowl to oven in minutes! We've got a load of these Betty Crocker Chocolate Fudge Cake Mix Boxes to give away. Pop your details in the form below and let's eat cake!
More Electrical Videos