We've been finding free stuff on the internet for over 15 years, so we know a thing or two about freebie hunting. If you're new to this, the good news is, there isn't much to learn but there is a lot to gain.
The first thing you need to know is where to start your search for free samples, and the answer is right here. Every day we update the website with the very latest free stuff, free samples and freebies we've found on the internet so that you can also apply for them.
What sort of freebies can i get?
The most popular freebies are health and beauty, which includes everything from amazing free makeup samples to popular skincare samples, perfume samples, supplements, accessories and most other beauty related stuff.
Food and drink is another very popular category for free samples and that includes literally everything from soft drinks to hot drinks, alcohol, cereal to snack bars, sweets, meat boxes to cakes, hampers and lots more.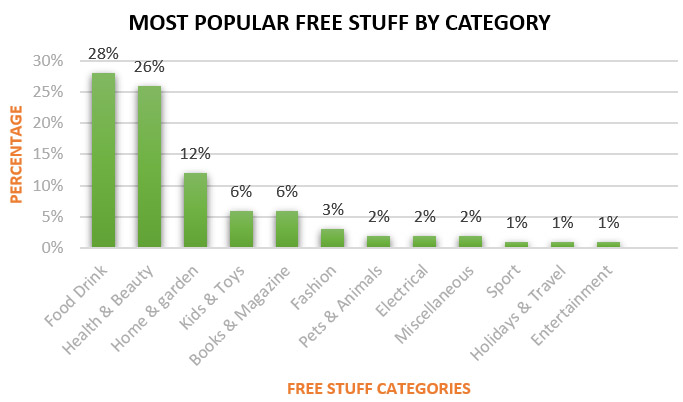 As the bar chart above shows, other very popular categories include home and garden, kids and toys, books and magazine, fashion, pets and many more. Other categories also include loyalty cards, product testing, free tickets, cleaning products and loads more.