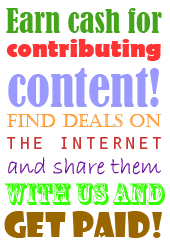 Today's Featured Freebies, Competitions & Deals

Free Solar Panels For Your Home
A Shade Greener are a BBC recommended, government initiated scheme that are giving away free solar panels and installation, worth up to £14,000. If eligible you could save yourself a fortune in energy bills.




Free Nivea Men or Women Beauty Bundle
Apply for your free Nivea beauty bundle on the web site linked. Just answer a few questions and select if you would like the bundle for men or women.


Win an iCandy Pushchair Bundle with APTA
APTA Club have teamed up with the UK's leading pushchair brand, iCandy, to give you the chance to win the new state-of-the-art, lightweight, compact-fold Raspberry pushchair package in a colour of your choice. To take part in this free prize draw all you have to do is join Aptaclub by the 30th of September.




Free Jack Daniel's Hip Flask
Between now and the 25th of September 2015, Jack Daniel's are giving away 100s of freebies including T-shirts, guitars and hip flasks. Just register on the Jack Friday web site linked.


Free Ball of Women's Institute Knitting Yarn
The Mail Online have teamed up with Hobbycraft to celebrate 100 years of the Women's Institute with a FREE ball of WI knitting yarn available for every reader of The Mail on Sunday! Just cut out the token printed in the Mail on Sunday.


50% off Windows Plus £5,000 for your Old Windows
With Autumn and winter on the horizon there is no better time to think about keeping your home warm. At the moment Everest are running a 50% sale on door and windows. Plus they are offering up to £5,000 cashback for your old windows and doors. Just request a brochure to find out more.


Free Stress Ball & £3 per Survey
This is still one of our favourite survey web sites because they send out regular paid surveys and pay out out generous cash rewards for taking part. The pay via Paypal Cash or facebook credits so getting paid is easy.


Free Malibu Coconut Cups & Tote Bags
Signup to the Malibu 'Best Summer Ever' campaign on the web site linked for your chance to bag instant win prizes including Bestival tickets, party kits, camping gear, BBQ sets, picnic packs & bar tabs, as well as exclusive tote bags, coconut & pineapple cups and a load of Malibu of course!


Free Flora pro.active Coupons and Cholesterol Lowering Kit
Click on the 'How to Order a Kit' link on the Flora web site linked and complete your details. They will then send you a welcome pack with advice on how to lower your cholesterol? You will also receive Flora pro.activ coupons to help get you started.


Free Gourmet Society Discount Dining Card
Fancy feasting on a FREE Gourmet Society membership worth £69.95? We have teamed up with Gourmet Society to give away 100 free annual memberships. These cards will entitle you to tuck in to discounts at 1000s of restaurants across the UK, as well as enjoying money off cinema tickets, days out and hotel stays.


Free £45 for Surfing the Web
Surfing the web has never been so rewarding! Just register on the Digital Trends web site and they will pay you £10 just for registering and then you can earn a further £35 just for surfing the web.




Free Jordans Breakfast Cereals and Granola Bars
Every month Jordans select 10 lucky people to receive a hamper full of a month's worth of their yummy cereals and granola bars. If you want to be one of them, head over to the site linked and enter your details.




Free Braun Epilator
On the BzzAgents web site at the moment they are looking for people to trial the Braun Silk-epil epilator. Register now for your chance to get one.





One Hour Free Casino Play with No Deposit Required
This is EPIC! Register to play for free on the Casino Classic web site linked and they will let you play their casino games for free for a whole hour without having to deposit any money and anything you win you keep.




100 Free Spins & Keep Your Winnings!
Here is a bit of fun to pass a few minutes and possible win some cash. All you have to do is sign up to Karamba for free and they will give you 100 spins to say hello. 1 in 3 is a winner and recently a winner called Kate won £6,800 without depositing a penny! Just click on the banner which says 'Play Now' on the landing page to get your freebie.





Free Great British Bake Off 16-page Glossy
Free Inside this Saturday's Daily Mail - get your hands on a 16-page Great British Bake Off glossy, packed with mouth watering recipes from the book of the new BBC series.




Free Maggi Marinade Kit
Sainsbury's Online Shoppers can get a free packet of Maggi Marinade. just add to your basket and checkout using the code FREEMAGGI.






Win £1000 with ebookers
Submit your photo to the competition and ask your friends to vote for your chance to win. The photo that gets the most votes wins £1000. Good Luck!



Free Pregnancy Guides & Advice
Simply register for free with Aptaclub to get free expert nutritional advice, tailored to your stage of pregnancy or parenthood delivered straight to your home address or email account.


Free Arctic Poster & Desktop Wallpaper
Greenpeace want to declare a global sanctuary in the Arctic, which will include a ban on drilling for oil and industrial fishing. If you support that idea then just sign the petition on the Greenpeace web site linked. After signing the petition you will be able to download their Arctic image gallery to use as wallpapers on your desktop or print off as posters.


Free £2 Starbucks Voucher - 6,000 up for grabs
Brilliant this. Just register on the UK's leading Film & TV survey panel, confirm your email and complete your profile to start taking paid surveys on topics about TV shows you enjoy. They will then send you vouchers valued between £2 and £1,000 redeemable at Costa Coffee, Boots, Amazon, Starbucks, B&Q and loads more.




Free Olay Regenerist Products
Just login or register on the SuperSavvyMe web site linked login for on the linked page for the chance to win free stuff like a Michael Kors handbag and a complete list of Olay Regenerist products.




Free Bottle of Pantene Pro-V
Get great hair days every day by grabbing your sample of Pantene Pro-V Repair and Protect Shampoo and Conditioner.


Free Max Factor Smokey Eye Drama Kit
Everday this July there are 5 Max Factor Smokey Eye Drama Kits in Lavish Onyx each day to be had on the web site linked. Enter for your chance to bag one.


Free Sample of Always Discreet
SavvyCircle are looking for 1,000s of people to trial Always Discreet liners and pads. Just register for the panel and if selected you will receive one full-size pack of Small Pads, one full-size pack of Pads+ Long, £1 off vouchers for any Always Discreet liners or pads and £2.50 off vouchers for Always Discreet pants.


Free Six-Piece Cook & Serve Set
These porcelain cook and serve dishes are ideal for cooking dishes such as lasagne or cannelloni, and serving straight to the table. Get the entire set for free along with six Italian food specialities when you buy 12 bottles of wine for just £59.95.


Free Cuddly Cow Toy & Pregnancy Diary
If you have a newborn or are expecting then you can register on the Cow & Gate Baby Club web site for great tips, advice and offers, plus get your FREE cuddly cow and more!!


£8,000 in Free Bingo
This is a corker of a freebie from the UK's biggest and best Bingo web site - Gala Bingo are offering you up to £8,000 in free bingo. Register on the Gala web site to start rolling in the cash.


Free £5 Foxy Bingo Cash - No Deposit Required!
Foxy Bingo is the UK's favourite bingo brand and they are giving away £5 free bingo cash to new members. Just register and start playing with your free cash and keep your winnings. Also if you deposit £10 they will give you £50. This is an amazing offer that won't last long so dive in..




Like Our facebook Page
Help spread the word about Offeroasis.co.uk by 'Liking' our facebook page. Just visit our facebook site linked to and click on the 'Like' button. Thanks for your support.