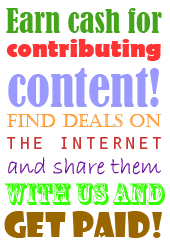 Today's Featured Freebies, Competitions & Deals

Free Flora pro.active Coupons and Cholesterol Lowering Kit
Want advice on how to lower your cholesterol? The Flora web site is the place to start. Request your free guide for all the facts, support and extra motivation you need to successfully lower your cholesterol. You will also receive Flora pro.activ coupons to help get you started.


Free Retro Style Passport Holders, Luggage Tags & Eye Masks
We've teamed up with a leading holiday resort company to offer you the chance to win a 2 week sunshine family holiday to Florida, Turkey, Tenerife or Costa del Sol with £2,000 spending money. Plus 100 runners up will get a free retro stamp style travel accessory including Passport Holders, Luggage Tags and Eye Masks.


Free Birds Eye Fish & Chips Dinner
Register on the Survey web site linked, confirm your email and complete your profile and they will send you a free BirdsEye Fish & Chips Dinner to sample and give feedback on. You will also get other paid food and beauty surveys.




Free Linwoods Health Foods
Linwoods range of healthy super food combinations are just the thing to wake you up and brighten those winter days. Share a photo of your brighter days and they will send you a free sample of their products plus you also get a free 20% off coupon. Excellent Freebie!


Free Benefit Roller Lash Mascara
Want to be one of the first people in the UK to try the new mascara from Benefit, Roller Lash? Then head over to the Debenhams Beauty Club facebook page because they have got 50 full size samples to give away.




Free Bottle of USlim Slimming Shake
Want a six pack for free? Then check out the Holland & Barrett web site linked because they have teamed with USlim to give 50 people a free 6 pack of their slimming drink in strawberry and chocolate flavours.


Free £2 Amazon Certificate
Take this really easy household survey about the products you use. Complete this and you can earn a voucher worth between £2-£50 which can be redeemed at places such as Amazon, Starbucks, B&Q, Boots and many many more places. They are looking for users aged over 16 so if that is you then just complete the survey for your reward.


Free Daily £2 Cash For Vodafone Users
If you are on Vodafone this is incredible. Just register on the mobile survey web site linked and confirm your email and finalise your registration and they will award you with a £2 cash. Everyday thereafter you will be able to earn a maximum of £2. Just follow the instructions on the page linked. This panel won't be open for long so hurry to secure your place.


Win a Year's Supply of JOHNSON'S® Baby wipes
Register at caringeveryday.co.uk today and a get a chance to win a year's supply of JOHNSON'S® Baby wipes. They pick a new winner, every month. Plus you can print off money off coupons for other Johnson's & Johnson's products.





Free Biscuit Spread & Krispy Kreme Goodies
To celebrate the new Krispy Kreme Lotus Biscoff Caramelised Doughnut available in Krispy Kreme stores (including Krispy Kreme's cabinets in selected branches of Tesco Extra), Lotus are giving away even more free samples of their biscuit spread. Just fill in the form on the web site linked and they will send you a 20g sample.




Free Yves Rocher Lip Balm in Vanilla or Raspberry
Enter your name and email on the Yves Rocher web site linked for your chance to get 1 of 50 lip balms in either Vanilla or Raspberry flavour. Competition closes on 10th Feb so plenty time to receive before Valentine's Day when lips are going to be working overtime. Hehe!




Free Samsung 3D HD Smart Curved LED TV
Register on the web site linked for your chance to become a technology testers to rate and review the Samsung 48 inch 3D HD Smart Curved LED TV, and the best bit is you get to keep it!


Risk-Free Trial of Total White Teeth Whitening Kit
Want visibly whiter teeth in just 7 days? Then try a risk-free trial of Total White teeth whitening. The Total White Teeth Whitening System contains everything you need to achieve a sparkling white smile. You can keep track of your progress with our complimentary shade guide. Request your free trial pack - just pay postage.


Free Macbook Air
WOWSER! Opportunities like this don't come around very often. Just register on the web site linked for your chance to product Test A Macbook Air To Review and Keep For Free! They have a load of them to give away.


Free Weetabix Apron, Cereal Bowl, Place Mat
This is some real good creative fun for the kids. Weetabix are giving away 90 Weetabuddy Creator Kits which include Weetabix branded personalised kid's apron with logo, Kid's white chef's hat, Weetabuddies branded plastic cereal bowl, and more. See the page linked for details of entry.



Free Courier Parcel Delivery
Brilliant this is. Parcel2Go are offering one free parcel delivery worth up to £10 (inc VAT) for new customers, or a £10 discount on orders over that amount. Just use code: TVFREE when you order.




Free L'Oreal Paris Telescopic Mascaras
Now you can have the lashes you've dreamed of with L'Oreal Paris Telescopic Mascara! Enter on the web site linked for your chance to get 1 of the 100 up for grabs.


Free Dualit Toaster, Kettle, Pot
New Year new Kitchen Sets. Kitchen Bathroom & Bedroom Magazine have got 10 of these stunning Dualit Kitchen Sets to give away. Each set consists of a Dualit Classic kettle and four-slice Classic toaster in the brand's Copper finish pots – worth more than £300 in total. Invite metallics into your home interiors with the new Dualit Classic kettle.





Win a Medion Laptop with SalesGossip
The lovely people over at SalesGossip know you love to browse the net in style, which is why they're giving away a Medion laptop worth £549! Just two form fields to enter the competition.




Win a Folding Sledge worth £99
With the UK in the grip of an Icy Arctic Blast and snow already falling in the North it's time to get winter ready! ...and what could be more important than scooping a sledge? Head over to the Futon Company facebook page linked and enter this competition to win a cool folding sledge. Happy Trails!




Win His & Hers French Connection Sunglasses
To celebrate the arrival of the SS15 sunglasses collections, we're giving you the chance to win 2 pairs of French Connection sunglasses, up to the value of £100! One lucky winner will choose one pair of men's and one pair of women's sunglasses. To enter, simply visit our competition page.




Free £10 Love2Shop Voucher and £40 Bingo Cash
Brilliant bingo freebie here. Just register with Butlers Bingo and deposit £10 to receive £40 free bonus and a £10 Love2Shop Voucher, which you can spend in a range of popular high street stores. If you like bingo this is a no-brainer.


Free Starbucks Voucher
Real easy freebie here. Just give your opinion on TV shows you love or hate and earn vouchers which you can redeem at places such as Starbucks, Boots, Costa Coffee, Amazon and B&Q. Voucher values range from £2 to £1,000 so you could get anything from a cup of coffee to a state of the art coffee machine.


£45 Free Bingo Cash with Gala Bingo
This has to be the most generous bingo cash giveaway we have featured. Just register on the Gala Bingo web site and deposit £10 and they will give you an extra £45 to play with - that's a total of £55.


Risk-free Trial of Beauty Labs Instant Wrinkle Reducer Serum
BeautyLab's Instant Wrinkle Reducer uses a unique blend of powerful naturally-occuring ingredients, which are designed to fight ageing by encouraging collagen production and restoring your skins natural plumpness, leaving skin feeling firm and supple. Best Kept Skin Secret have got 5,000 trial packs every day. Request your trial pack today and pay only for P&P.


Risk-free Trial of Weight Loss & Fat Burning Supplement
Raspberry Ketone ProSlim is a revolutionary new supplement that will help you burn fat and lose weight without strict dieting or complex exercise regimes. Take advantage of this Trial Offer and pay only for P&P. Start Burning Fat Effortlessly, Banish Cravings and Increase Metabolism.


Free Dyson DC40 Vacuum Cleaner
Get your application in to test and keep the Dyson DC40 Vacuum Cleaner. A Dyson makes really light work of cleaning at home. Just register on the web site linked.



Free Babyliss Pro Curler
Get curls to rival the Duchess of Cambridge Kate Middleton with the Babyliss Pro Curler. Register to become a product tester and one could be winging it's way to you.


Free to set up Debt Plan
iDebtPlan is a free to set up debt plan that gets you out of debt faster. It's totally private, fully online and there are no hidden charges and you could stop paying your debts as soon as today and they can help with all kinds of debts including payday loans, credit cards, overdrafts, catalogues and many more. Just fill in the simple form on the site linked.




Like Our facebook Page
Help spread the word about Offeroasis.co.uk by 'Liking' our facebook page. Just visit our facebook site linked to and click on the 'Like' button. Thanks for your support.