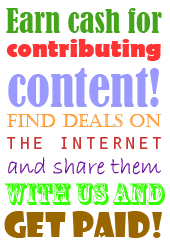 Free ZadigVoltaire T-Shirts, Bags and Perfume
Zadig and Voltaire are giving away 1,000s of freebies in their promotion, with over 2500 t-shirts, 4000 bags, 5000 bottles of perfume and much much more in an instant win competition. This is one not to miss out on.


Free So Elixir Fragrance from Yves Rocher
Yves Rocher are giving away 100s of full size bottles of their So Elixir and Secrets D'Essencies Vanille Noire fragrances in their online promotion. Just enter on the Yves Rocher web site linked.


Free Tempur Travel Pillow
The Free Tempur Traditional Travel Pillow giveaway is back on this time at Furniture Village. Just pop into your nearest store and try out the new Tempur Collection and test the new mattresses. No purchase required! Find your nearest store on the site linked. Plus if you signup to the Furniture Village mailing list they will give you a free £10 voucher.


Free Pack of Always Dailies Pantyliners from Boots
Enter your details in the form on the Boots web site to request your FREE coupon for a pack of Always pantyliners, and discover how they can help you feel fresh and confident all day long, no matter how intense or active your day is. They have 20,000 to give away.




Free Gruffalo Birthday Party Pack
Help the Gruffalo's celebrate his birthday with the birthday party picnic on Saturday 7 June. Sign up to receive a free party pack.


Free Clarins Goody Bag Giveaway
Swoosh are giving away 10 amazing Clarins Beauty Baskets each worth £500. Just register on the swoosh web site inked for your chance to win one of these.





Home Owners - Earn up to £700 per year TAX FREE
If you are a home owner you can earn £700 per year TAX FREE with Solar panels, plus there are Government incentives that can save you 70% of the cost of installation. Just request a quote on the eCo Experts web site linked for more details.






Free Resurrection Aromatique Hand Balm
If you would like to be one of the people to trial Aesop's Resurrection Aromatique Hand Balm just register for the trial on the What's in My Handbag web site linked.




Free Packs of Seeds from The Works
The Works members can claim a free 4 pack of seeds using the coupon linked to. If you are not a member you can pop into your local store to apply for one for free then use the coupon.


Free Stuff from Boots
Complete the form on the page linked for your chance to bag 6 months supply of Boots Skincare Products.


Risk-free Trial of Beauty Labs Instant Wrinkle Reducer Serum
BeautyLab's Instant Wrinkle Reducer uses a unique blend of powerful naturally-occuring ingredients, which are designed to fight ageing by encouraging collagen production and restoring your skins natural plumpness, leaving skin feeling firm and supple. Best Kept Skin Secret have got 5,000 trial packs every day. Request your trial pack today and pay only for P&P.


Risk-free Trial of Weight Loss & Fat Burning Supplement
Raspberry Ketone ProSlim is a revolutionary new supplement that will help you burn fat and lose weight without strict dieting or complex exercise regimes. Take advantage of this Trial Offer and pay only for P&P. Start Burning Fat Effortlessly, Banish Cravings and Increase Metabolism.




Free Derwent Graphitint Sketching Pencils
Derwent are giving away 30 free tins of Graphitint drawing pencils in their special draw. Just answer a simple question for your chance to get this freebie. Go you can do it Picasso.




Free Cargo Provence Eye Shadow
It's Day 17 in the Glamour Giveaway, today they have this beautiful free Cargo Single Eye Shadow in Provence up for grabs. Enter for your chance to get this freebie.


Free Green Giant Height Chart
Another 2,000 of these handy height charts are available so if you didn't get one last time then head over there to request one.




Free 12 Piece Dish Set with the 'Italian Table Selection'
If you love the finer things in life – but don't like to pay over the odds – you'll love the new 'Italian Table Selection' Collection from Giordano, one of Italy's oldest and most respected producers of authentic wine and food. Get 12 bottles of wine, 6 authentic Italian food delicacies and a free 12-piece dish set all for just £59.95.



Free Cadbury Eggsplorer Activity Pack
Keep your family entertained during the Easter holidays with this activity pack from Cadbury. Enjoy some arts and crafts, play outdoor games or try baking some delicious treats. There is also a easy-to-use and fun-filled Trail Pack to help you to put together your own Easter Egg Trail at home.


Free Sample of Bvlgari Indian Garnet Fragrance
Bvlgari are now giving away a new fragrance from their Omnia Range, this time you can request a free sample of Indian Garnet. Just enter your details on the Bvlgari web site and your sample will be winging it's way to you. They send samples very fast.




Win Laser Eye Surgery with Optical Express
Win Laser Eye Surgery with Optical Express worth over £3,000 and you will benefit from Instant freedom from the inconvenience of wearing glasses or contact lenses, Enjoy playing sports and taking part in leisure activities more often and some many other amazing benefits. Just fill in the short form on the right of their page linked.


Free George by ASDA £5 Gift Card
Complete a short survey on the site linked for your chance to bag one of the many George by ASDA £5 gift cards they are giving away.


Free to set up Debt Plan
iDebtPlan is a free to set up debt plan that gets you out of debt faster. It's totally private, fully online and there are no hidden charges and you could stop paying your debts as soon as today and they can help with all kinds of debts including payday loans, credit cards, overdrafts, catalogues and many more. Just fill in the simple form on the site linked.


£25 Free Bingo Cash Voucher Code
We just been given a voucher code by 888 Ladies bingo to pass onto you. Just enter '25FREE' on the 888 Ladies Bingo web site and when you deposit £5 they will give you £25 to spend on Bingo Games. This is one of the best bingo sites in the world for ladies so head over there before the voucher runs out.





Free £10 Love2Shop Voucher & £30 Bingo Cash
Amazing new bingo offer here. New members who deposit £10 get £40 to play, PLUS a FREE £10 Love2Shop Voucher! Excellent freebie with nothing to lose and tonnes of fun to be had.



55 Euromillions Entries for £1
Here is a brilliant way to increase your chances of winning the Euro Millions Lottery. You can get 55 entries for just £1! Hurry and visit the site linked.




Risk free Clear Smoke e-cigarette trial
Request a Risk free trial of ClearSmoke e-Cigarettes and discover a much more healthy and socially acceptable way to smoke. e-Cigarettes contain nicotine but no other harmful chemicals and it is legal to use in most public establishments. Just pay Post and Packaging.


Earn up to £12 per Survey with SurveySavvy
Heads up guys, we've just found this new survey site called SurveySavvy which offers participants the chance to take part in surveys that pay anywhere from 50p to £12 depending on the length and topic of the survey. Just register on the site and confirm your email address to start receiving surveys.



Bubbles Bingo Free £20 Bonus
NEW! Join Bubble Bonus Bingo - Deposit just £5 and they will top you up with an extra £20 for free - That's £25 to play with! PLUS play their Bubble Pop game for the chance to make that £35!





Free Holiday Savings of Up To 70%
Sign up to Voyage Privee for free and be the first to hear about amazing holiday deals with up to 70% off all sorts of holidays including exotic locations that are not normally heavily discounted. It could be your chance to get a once in a lifetime holiday experience for a fraction of the normal price.




Like Our facebook Page
Help spread the word about Offeroasis.co.uk by 'Liking' our facebook page. Just visit our facebook site linked to and click on the 'Like' button. Thanks for your support.