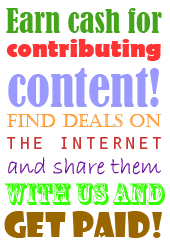 Today's Featured Freebies, Competitions & Deals

Free Johsnon & Johnson Printable Coupons
Register on our CARING EVERYDAY website from Johnson & Johnson and get access to loads of coupons offering really good discounts on products from their range. Plus you wil be entered into a competition to win a year's supply of Baby Wipes.



Win £1,500 a Week with Fanbookz
All you need to do is signup to Fanbookz for free to get the latest free news on football teams and they give you the chance to win free stuff and cash every week. It's brilliant!


Free Cuddly Cow Toy & Pregnancy Diary
If you have a newborn or are expecting then you can register on the Cow&Gate C&G Baby Club web site for great tips, advice and offers, plus get your FREE cuddly cow and more!!


Free Macmillan Night In Kit
Sign up on the Macmillan website today and get your free Night In Kit – full of everything you need for a fantastic, fuss-free fund raising Night In for Macmillan.




Free Shaun the Sheep Soft Toys
You need to buy a promotional pack of Muller Kids Corner for your chance to get one of these brilliant freebies. There are 100 a day to be had until the end of April, and all you have to do is enter your unique code from your pack on the web site linked.




Free Packs of Haribo Super Mix Sweets
Vote for your favourite Haribo Flavour for your chance to win one of two Apple IPAD Mini 2 16gb. Plus there are loads of runners up prizes of 160g bags of Haribo Super Mix.




Free Copies of 'The Museum of Things Left Behind'
Escape into this hugely enjoyable, big-hearted and beautifully written novel, set in Vallerosa, a European country you've never heard of before. There are 100 copies of this up for grabs on the Caboodle web site linked.




Free Nancy B's Science Club Black Light Illuminators
Over on the National Geographic Kids web site they have 38 Nancy B's Black Light Illuminators and Nature's Mysteries Journals up for grabs! Use the special lamp to identify rocks, minerals and flowers that glow under ultraviolet light. Very interesting and educational.


Earn up to £700 per year TAX FREE
eCo Experts can help you earn £700 per year TAX FREE with Solar panels and what's more there is a Government backed incentive to financially assit people to install solar panels in their homes and you could qualify. Just enter your details on the eCo Experts web site linked to find out more.


Risk-free Trial of Beauty Labs Instant Wrinkle Reducer Serum
BeautyLab's Instant Wrinkle Reducer uses a unique blend of powerful naturally-occuring ingredients, which are designed to fight ageing by encouraging collagen production and restoring your skins natural plumpness, leaving skin feeling firm and supple. Best Kept Skin Secret have got 5,000 trial packs every day. Request your trial pack today and pay only for P&P.


Risk-free Trial of Weight Loss & Fat Burning Supplement
Raspberry Ketone ProSlim is a revolutionary new supplement that will help you burn fat and lose weight without strict dieting or complex exercise regimes. Take advantage of this Trial Offer and pay only for P&P. Start Burning Fat Effortlessly, Banish Cravings and Increase Metabolism.




Free Business Cards from Moo
Moo trial Business Cards look and feel the same as their regular cards, and use the same paper so they make a great freebie if you only need a few cards. All you have to do is design your own pack and they will despatch them to you. Delivery is free!


Free Case of B.fresh Juice
B.fresh juice drinks are so delicious and refreshing, they must be tried but with so many flavours it can be hard to choose. No fear, you can try them all if you take part in their facebook promotion because they are giving 100 people the chance to win a whole case each.


Free My Little Pony Squishy Pops
on the squishypopsgifts.co.uk web site they have 500 My Little Pony Squishy Pops ready to be claimed! Kids love these so don't miss your chance to bag one.


Free Stress Ball & £3 per Survey
We recently registered on this paid survey site and have had 6 paid surveys already and earned £18 so far paid in our paypal account. Plus they recently sent us a free stress ball to squash while taking surveys. Well worth registering.


Free Discount Deals from Bespoke Offers from Barclays
If you like going out and saving money Bespoke Offers from Barclays is a must see because they have some of the most amazing exclusive deals on spas, restaurants, cinema, electronics, homeware, kitchenware and loads loads more. Discount can be as high as 70% off. Just enter a few details to see today's daily deals.



Free Nature Valley Peanut Butter & Chocolate Bar
You can send a hungry friend a free Nature Valley protein bar and all you need to do is fill in the form linked, don't worry if you don't know their address, and they'll be able to claim a free bar. Ask them to send you one back, this offer will continue until stocks run out.


Free Sample of Valentino Uomo Fragrance
There are 15,000 free 1.5ml samples of iconic fragrance Valentino Uomo for men being given away on the Mr Hyde web site linked. Hurry over there to secure your freebie.


Free Daionic Gym Vest
Daionic have got 250 gym vests up for grabs! Show off your guns on your next workout - and don't forget your Daionic to help you refuel and recover! Enter on the Daionic facebook page linked.


Win Kerry Gold Vouchers
Tell Kerry Gold how you like your eggs in the morning by posting on the facebook page linked and they will select 3 people to receive a voucher to use on a load of Kerry Gold products. I like mine sunny side up on a slice of toast buttered with Kerry Gold. Yummy!





Win a Box of Ferrero Rocher Raffaello Chocolates
If you haven't tasted these Almond flavoured chocolates from Ferrero Rocher then you are missing out big time. One bite of these will send you to heaven. They are giving away a box of these on the facebook page linked.




Win a BakerStone Pizza Making Oven Box
Want to turn out professional pizza from the comfort of your own kitchen? Head over to the web site linked and enter this competition for your chance to win this bundle, which includes a Bakerstone Large Oven Box, a pizza board, cutter, paddle and slicer all from La Hacienda.


Free to set up Debt Plan
iDebtPlan is a free to set up debt plan that gets you out of debt faster. It's totally private, fully online and there are no hidden charges and you could stop paying your debts as soon as today and they can help with all kinds of debts including payday loans, credit cards, overdrafts, catalogues and many more. Just fill in the simple form on the site linked.




Like Our facebook Page
Help spread the word about Offeroasis.co.uk by 'Liking' our facebook page. Just visit our facebook site linked to and click on the 'Like' button. Thanks for your support.