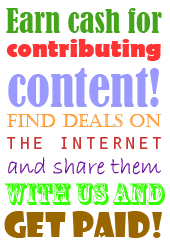 Today's Featured Freebies, Competitions & Deals

Free Fiat Water Bottles, Mobile Phone Charms, Key Rings
A new addition to the Fiat 500 world is about to arrive and they want to celebrate the arrival of the new Fiat 500X by giving away a load of free stuff including branded water bottles, mobile phone charms, key rings and more. Just complete 3 form fields to enter.






Free Jack Daniels Winter Jack Mug
I've had lots of freebies from Jack Daniels so was well chuffed when I found this one. They are giving away 2,010 Winter Jack Mugs, just perfect for sipping a heart-warming apple whisky punch, or a mulled wine if your prefer.




Free Frozen Halloween Pumpkin Stencils
You won't be scaring the bejesus out of anyone with these pumpkin stencils but if you have some Frozen fans in the house, we're sure they would love these stencils. In addition to the stencils, we found some video tutorials to help guide you along your pumpkin carving journey (it's not as hard as it looks!).




Free Copy of Colette McBeth's New Book
Nice exclusive freebie from Caboodle here. Be the first to read Colette McBeth's gripping new novel The Life I Life Behind, months before it publishes in January. Caboodle have got 100 exclusive advance proof copies to giveaway.


Free Macbook Air
WOWSER! Opportunities like this don't come around very often. Just register on the web site linked for your chance to product Test A Macbook Air To Review and Keep For Free! They have a load of them to give away.


Risk-Free Trial of Total White Teeth Whitening Kit
Want visibly whiter teeth in just 7 days? Then try a risk-free trial of Total White teeth whitening. The Total White Teeth Whitening System contains everything you need to achieve a sparkling white smile. You can keep track of your progress with our complimentary shade guide. Request your free trial pack - just pay postage.


Free iPad Air
Bestbuymoney and Hotels.com are giving you the chance to get a free iPad Air. Just register for your chance to get one.



Free Halloween Treat from Fruitella
To celebrate Halloween next week, Fruitella have launched a new promotion on their facebook page linked so you can get some free treats rather than tricks! Just play the spooky game for your chance to get some fruity freebies and maybe even an iPhone 6 or iPad Mini.


Free Cadbury Wispa, Boost, Double Decker Chocolate Bars
This is an awesome MASSIVE giveaway from Cadbury. There are 1,000,000 - YES ONE MILLION Instant win Chocolate bars in the Cadbury Win a Banger promotion. Chocolates include Wispa, Wispa Gold, Boost, Double Decker, Starbar and Twirl. You can enter twice a day so your chances are high! Enjoy your free chocolate.




Free Samsung 3D HD Smart Curved LED TV
Register on the web site linked for your chance to become a technology testers to rate and review the Samsung 48 inch 3D HD Smart Curved LED TV, and the best bit is you get to keep it!


Free Olay Pore Minimiser
Olay's Total Effects Pore Minimiser is a pore Minimiser, Moisturiser and Airbrush in 1 Tube! SuperSavvyMe have got free samples to give away. Claim yours now!


Free O.P.I Gwen Stefani Nail Polish
There are loads of free bottles of O.P.I Gwen Stefani Rock Starlets Mini Collection Nail Varnish up for grabs on the web site linked. Plus 10 people will win an entire O.P.I Gwen Stefani Rock Starlets Mini Collection gift set.




Free Glenfiddich Glencairn Glasses
If you are signed up to Glenfiddich Explorers they would have sent you an email yesterday offering you the chance to bag 1 of 300 Glenfiddich Glencairn Glasses. If you haven't signed up then do so now because you could be in with a chance of getting one of these and other freebies they give away every now and then




Free Nice'n Easy Hair Colour
SuperSavvyMe are giving you the chance to join a team of 1,000 savvy circle members to try out nice'n easy's permanent hair colour. If Picked you will receive a full-size pack of nice'n easy in your chosen colour, 3x full-size packs to share, 20x money off coupons (50p) and more.




Free Ferrero Rocher Mini Pyramid Chocolate Box
I just love a Ferrero Rocher freebie. Take part in the Ferrero Rocher Magic Tree promotion on facebook because they have over 1,000 freebies up for grabs including 650 boxes of their delicious chocolate, Gold iPhones, Cartier Perfume, Michael Kors Handbags, Gold Ray Bans, Dior Manicure Set and Gold Champagne. Awesome!


Win a Special Occasion/Party Dress
Hey! November and December are party season so if you want to look your best in a brand new never seen before party dress, this is the competition for you. Forever Unique are giving you the chance to win a special occasion dress. Just head over there and pop a few details in the form. Their dresses are lush!



Free 12 Piece Dish Set with the 'Italian Table Selection'
If you love the finer things in life – but don't like to pay over the odds – you'll love the new 'Italian Table Selection' Collection from Giordano, one of Italy's oldest and most respected producers of authentic wine and food. Get 12 bottles of wine, 6 authentic Italian food delicacies and a free 12-piece dish set.




Free L'Occitane Shampoo, Hand Cream & Soap
This is the very best freebie from L'Occitane that we have ever found. They are really want to be part of your Christmas shopping list so they are giving away massive free gifts for you to try. Your gift will contain a Verbena shampoo, Almond Shower Oil, Shea Butter Hand Cream and Milk Shea Butter Soap. Just complete a few details to claim yours.


Win 1 of 5 Malibu Party Packs
To get you and your friends ready for Halloween we're giving away 5 exclusive party packs, each containing a 1L bottle of Malibu, 12 NEW Malibu & Mango cans and a selection of products from Bed Head's NEW Cult Creations range. Just complete the form on the Malibu web site before end of the day on the 26th October and your party pack will be with you before Halloween night.




Win a Family Ticket to Climb The O2
If you're scared of heights look away now. The O2 has teamed up with Parentdish to give one lucky family the chance to experience something exhilarating - the opportunity to climb one of London's most iconic landmarks, The O2. If that sounds like fun to you then head over there and pop a few details in their form.


Free Babyliss Pro Curler
Get curls to rival the Duchess of Cambridge Kate Middleton with the Babyliss Pro Curler. Register to become a product tester and one could be winging it's way to you.


Risk-free Trial of Weight Loss & Fat Burning Supplement
Raspberry Ketone ProSlim is a revolutionary new supplement that will help you burn fat and lose weight without strict dieting or complex exercise regimes. Take advantage of this Trial Offer and pay only for P&P. Start Burning Fat Effortlessly, Banish Cravings and Increase Metabolism.





Win an Emile et Rose Children's coat
Win an Emile et Rose children's winter coat of your choice! Choose between the Dane (boys) or Daska (girls) coats - sooo cute! Just follow the instructions on the facebook page linked.




Win £1,000 with Churchill
To celebrate the launch of National 'Oh Yes' Day, Churchill is giving away £1,000 to spend on whatever makes you say 'Oh Yes'. All you have to do is tell Churchill on the facebook page linked what you'd say 'Oh Yes' to over on Facebook.




Win a Luxury Vietnam Vacation
Enter for your chance to win luxury vacations for two at Central Coast Vietnam! The grand prize includes round trip airfare and five nights at a world class beach resort. Get bonus entries when you 'Invite Your Friends' and 'Share on Your Wall.'




Win a Ski Holiday for 4 at Baqueira Beret Resort
Simply like the Catalunya Experience Facebook page and enter your details in the form provided for your chance to win a ski holiday in Catalunya, which if you're not sure is actually in Spain!




Risk free Clear Smoke e-cigarette trial
Request a Risk free trial of ClearSmoke e-Cigarettes and discover a much more healthy and socially acceptable way to smoke. e-Cigarettes contain nicotine but no other harmful chemicals and it is legal to use in most public establishments. Just pay Post and Packaging.


Win an Amazing Holiday to Barcelona
Fill in the form on the Western Union website for your chance a fantastic getaway to Barcelona. Flights and hotel are included. If you've never been to Barcelona, it's a must see city so enter today!





Win an iPad3 with Western Union
Western Union have got another brilliant competition to win an iPad 3. Just register on the Western Union Web site linked to be in with a chance of winning.


Free Dyson DC40 Vacuum Cleaner
Get your application in to test and keep the Dyson DC40 Vacuum Cleaner. A Dyson makes really light work of cleaning at home. Just register on the web site linked.


Free Clarins Goody Bag Giveaway
Swoosh are giving away 10 amazing Clarins Beauty Baskets each worth £500. Just register on the swoosh web site inked for your chance to win one of these.




Free Tesco Gift Cards
There are free £100 Tesco Gift Cards being given away every week on the site linked. Just enter for your chance to get one of these most useful freebies.


Free to set up Debt Plan
iDebtPlan is a free to set up debt plan that gets you out of debt faster. It's totally private, fully online and there are no hidden charges and you could stop paying your debts as soon as today and they can help with all kinds of debts including payday loans, credit cards, overdrafts, catalogues and many more. Just fill in the simple form on the site linked.


Risk-free Trial of Beauty Labs Instant Wrinkle Reducer Serum
BeautyLab's Instant Wrinkle Reducer uses a unique blend of powerful naturally-occuring ingredients, which are designed to fight ageing by encouraging collagen production and restoring your skins natural plumpness, leaving skin feeling firm and supple. Best Kept Skin Secret have got 5,000 trial packs every day. Request your trial pack today and pay only for P&P.


Free George by ASDA £5 Gift Card
Complete a short survey on the site linked for your chance to bag one of the many George by ASDA £5 gift cards they are giving away.





Like Our facebook Page
Help spread the word about Offeroasis.co.uk by 'Liking' our facebook page. Just visit our facebook site linked to and click on the 'Like' button. Thanks for your support.