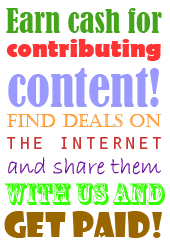 Today's Featured Freebies, Competitions & Deals

2B Rewarded Quick and Easy Paid Surveys
Just found this brilliant paid survey site. 2B Rewarded is quite unique because they have lots of paid surveys which are all very short and sweet and there are no screenings so every survey they have is open to you making it easy to earn cash fast - It's brilliant!


Free Full-Size Bottle of Lenor Unstoppable in-wash Scent
If you managed to get in on time to request a free mini 30g sample of Lenor in-wash Scent booster you can also try to get a full size bottle from SuperSavvyMe. They have 1,000 bottles to give away and all you have to do is take a 3 question survey.



Free Brush Baby Early Years Toothpaste
Brush Baby the early years toothpaste specialists are giving away free samples of their Baby & Toddler Applemint Toothpaste. Samples are limited so hurry to secure one.





Free Limited Edition Churchill Babygrows
To celebrate the Duchess of Cambridge's second pregnancy Churchill has 100 money can't buy limited edition Churchill babygrows to give away. To enter, simply tell or show Churchill your favourite 'Oh Yes!' or 'Oh No!' baby moments by commenting on Churchill's Facebook's post.


Free Macbook Air
WOWSER! Opportunities like this don't come around very often. Just register on the web site linked for your chance to product Test A Macbook Air To Review and Keep For Free! They have a load of them to give away.





Free Max Factor Skin Luminizer
Another massive freebie giveaway from SuperSavvyMe. They have 20,000 mini samples of Max Factor Skin Luminizer to give away.


Free Sample of Teamonger Tea
Teamonger want to share their delicious teas with you so they are offering free samples. They have a wide range of teas including Earl Grey, Black, White, Green, Oolong, Mate, Rooibos, Herbal and more. Just fill in the form on their site and either let them surprise you with some samples or select which ones you would like to try.





Free TIGI Leave-In Conditioner
Day 19 of the Glamour Online TIGI Beauty Giveaway and today there are free bottles of TIGI Leave-In Conditioner a lightweight, anti-oxidant rich leave-in-conditioner that helps to refresh and detangle your hair up for grabs.


Free Boots Gift cards for Taking Part in TV Surveys
Have you got an opinion on shows such as The Bake Off, The Voice, Strictly Come Dancing, Top Gear, Match of the Day, Eastenders, Antiques Roadshow, Countryfile, Panorama and others. Then join the GFK Terrestrial TV Panel and you will be rewarded with Boots Vouchers for taking part in online panels.


Free £150 TK Maxx Voucher
Enter this promotion from Winnersville for your chance to get a free £150 TK Maxx voucher. I love TK Maxx, with a little effort you can find some amazing on the cheap. £150 could go a long way.


Go Sober For October
Macmillan are getting people to go sober for October for cancer support charity. To join the charity all you have to do is pledge that you will not drink for the whole of October 2014 and they will send you free for tips and information for how to cut down on your drinking.




Free Fajita Sizzler Set or Tortilla Keeper
BFree are giving one lucky person the chance to win a trip for two to Mexico PLUS spending money! To enter, simply visit the Facebook and fill out the form. Plus each week they are giving two people the chance to win either a Fajita Sizzler Set or Tortilla Keeper.


Free Femfresh Wipes
Head over to the Fem Fresh web site and request a free sample of their limited edition intimate wipes.





Win a Whittard Coffee Hamper
Bring out your inner Barista for your chance to win a coffee hamper worth over £150, simply complete the entry form on the Whittard of Chelsea web site for your chance to win it.




Home Owners - Earn up to £700 per year TAX FREE
If you are a home owner you can earn £700 per year TAX FREE with Solar panels, plus there are Government incentives that can save you 70% of the cost of installation. Just request a quote on the eCo Experts web site linked for more details.




Free Samsung 3D HD Smart Curved LED TV
Register on the web site linked for your chance to become a technology testers to rate and review the Samsung 48 inch 3D HD Smart Curved LED TV, and the best bit is you get to keep it!


Free O.P.I Gwen Stefani Nail Polish
There are loads of free bottles of O.P.I Gwen Stefani Rock Starlets Mini Collection Nail Varnish up for grabs on the web site linked. Plus 10 people will win an entire O.P.I Gwen Stefani Rock Starlets Mini Collection gift set.




Win 1 of 10 Ultra Bee Skin Tissue Oil
TalkHealth are offering you the chance to win 1 of 10 tins of Ultra Bee Skin Tissue Oil. This stuff sounds amazing, its an extremely nourishing oil which improves the appearance of scars and stretchmark's.




Free Gillette Fusion Proglide Razor
No need to hurry because there are 150,000 of these being given away but why wait till tomorrow for something you can do today. Just head over to the Gillette #FIRSTREAL web site and pop a few details in the form to claim a free Gillette Fusion Proglide Razor.




Free Clarks Maple Syrup Recipe Book
I love maple syrup so this is easy for me. Just leave a review of Clarks Maple Syrup on Amazon and they wil send you a free Clarks Maple Syrup recipe book so you can make a load of sweet treats with Maple Syrup.




Free Discount Deals from Bespoke Offers from Barclays
If you like going out and saving money Bespoke Offers from Barclays is a must see because they have some of the most amazing exclusive deals on spas, restaurants, cinema, electronics, homeware, kitchenware and loads loads more. Discount can be as high as 70% off. Just enter a few details to see today's daily deals.


Risk-free Trial of Weight Loss & Fat Burning Supplement
Raspberry Ketone ProSlim is a revolutionary new supplement that will help you burn fat and lose weight without strict dieting or complex exercise regimes. Take advantage of this Trial Offer and pay only for P&P. Start Burning Fat Effortlessly, Banish Cravings and Increase Metabolism.




Free Dyson DC40 Vacuum Cleaner
Get your application in to test and keep the Dyson DC40 Vacuum Cleaner. A Dyson makes really light work of cleaning at home. Just register on the web site linked.


Free Clarins Goody Bag Giveaway
Swoosh are giving away 10 amazing Clarins Beauty Baskets each worth £500. Just register on the swoosh web site inked for your chance to win one of these.




Free Tesco Gift Cards
There are free £100 Tesco Gift Cards being given away every week on the site linked. Just enter for your chance to get one of these most useful freebies.


Free to set up Debt Plan
iDebtPlan is a free to set up debt plan that gets you out of debt faster. It's totally private, fully online and there are no hidden charges and you could stop paying your debts as soon as today and they can help with all kinds of debts including payday loans, credit cards, overdrafts, catalogues and many more. Just fill in the simple form on the site linked.




Win Laser Eye Surgery with Optical Express
Win Laser Eye Surgery with Optical Express worth over £3,000 and you will benefit from Instant freedom from the inconvenience of wearing glasses or contact lenses, Enjoy playing sports and taking part in leisure activities more often and some many other amazing benefits. Just fill in the short form on the right of their page linked.


Free 12 Piece Dish Set with the 'Italian Flavours Selection'
If you like wine and Italian food – you'll love the new 'Italian Flavours Selection' Collection from Giordano, one of Italy's oldest and most respected producers of authentic wine and food. Get 12 bottles of wine, 6 authentic Italian food delicacies and a free 12-piece dish set.


Risk-free Trial of Beauty Labs Instant Wrinkle Reducer Serum
BeautyLab's Instant Wrinkle Reducer uses a unique blend of powerful naturally-occuring ingredients, which are designed to fight ageing by encouraging collagen production and restoring your skins natural plumpness, leaving skin feeling firm and supple. Best Kept Skin Secret have got 5,000 trial packs every day. Request your trial pack today and pay only for P&P.


Free George by ASDA £5 Gift Card
Complete a short survey on the site linked for your chance to bag one of the many George by ASDA £5 gift cards they are giving away.





Risk free Clear Smoke e-cigarette trial
Request a Risk free trial of ClearSmoke e-Cigarettes and discover a much more healthy and socially acceptable way to smoke. e-Cigarettes contain nicotine but no other harmful chemicals and it is legal to use in most public establishments. Just pay Post and Packaging.




Like Our facebook Page
Help spread the word about Offeroasis.co.uk by 'Liking' our facebook page. Just visit our facebook site linked to and click on the 'Like' button. Thanks for your support.