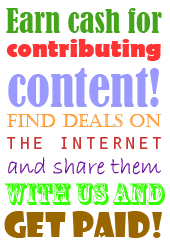 Today's Featured Freebies, Competitions & Deals

Free Clarins Samples & Beauty Bag
Get ready for the party season with this amazing freebie from Clarins. Just register for their newsletter for a free gift of 3 Free samples, beauty bag, special offers and reward points. Hurry though because there are a limited number of freebies up for grabs.


Free Nuxe Beauty Products Wish List
This is just awesome! All you have to do is select your favourite products to create your own NUXE wishlist and you could receive all your picks as a Prodigious Christmas gift. Start making your wishlist now on the site linked.


Win a Year's Supply of JOHNSON'S® Baby wipes
Register at caringeveryday.co.uk today and a get a chance to win a year's supply of JOHNSON'S® Baby wipes. They pick a new winner, every month. Plus you can print off money off coupons for other Johnson's & Johnson's products.




Free £20 Ikea Gift Card
Keep you eye on the Ikea web page linked because they will soon be launching an incredible freebie. From the 28th November anyone who buys an IKEA real Christmas tree for £25 will also receive a free £20 voucher to spend instore.




Free Cases of Kettle Chips
Kettle Chips are going back in time to reintroduce two old flavours for a limited period (Salsa and Stilton & Port). To celebrate they are giving away 10 cases of crisps every week. See the facebook page linked.






Free Samsung 3D HD Smart Curved LED TV
Register on the web site linked for your chance to become a technology testers to rate and review the Samsung 48 inch 3D HD Smart Curved LED TV, and the best bit is you get to keep it!


Free Samsonite Luggage, Altus Backpacks, Personalised Magnet
This is brilliant! Take part in travel quizes, travel surveys, spot the difference games and more to claim freebies including Samsung Tablets, Go Pro White Camcorders, Samsonite Luggage Sets, Altus Backpacks, Samsonite Travel Bags, Personalised Magnets and flights to South America.




Free Christmas Issue of Good Food Magazine
There is no better time of year to get some culinary tips and inspiration. Head over to the web site linked to request a free issue of The Good Food Magazine Christmas Edition.


Free Diabetes Badges & Loopy Keyrings
To celebrate the milestone of 125,000 forum members (and 40,000 people who have downloaded the Diabetes Forum App), Diabetes.co.uk are giving away an iPhone 6, diabetes pin badges and loopy keyrings to 100 lucky winners.




Free Lego Gift Boxes
Play the Petit Bateau Big Christmas instant win game for your chance to bag 1 of 50 Lego Gift Box Sets. Plus there is a top prize of a family trip to LEGOLAND in Denmark.


Free iPad Air
Bestbuymoney and Hotels.com are giving you the chance to get a free iPad Air. Just register for your chance to get one.






Free Malibu Hot Choc in Las Iguanas Restaurants
If you've got a Las Iguanas Restaurant close by then head over to the Malibu web site linked to print off a voucher to claim a free Malibu Hot Choc. Voucher redeemable on 6th, 13th or 20th December 2014 between noon and 18.00.



Free Smashbox Photo Finish Primer
Ready to prime for the first time? Request a free sample of Smashbox's Photo Finish Primer on the ASOS web site. Just scroll all the way down to the bottom of the page.


Free Bottle of Yves Rocher's New Fragrance
Head over to the Yves Rocher web site because they are giving away loads of full size bottles of their new fragrance called Quelques Notes D'Amour - which means 'Some Notes On Love'. Beautiful!




Home Owners - Earn up to £700 per year TAX FREE
If you are a home owner you can earn £700 per year TAX FREE with Solar panels, plus there are Government incentives that can save you 70% of the cost of installation. Just request a quote on the eCo Experts web site linked for more details.


Free Macbook Air
WOWSER! Opportunities like this don't come around very often. Just register on the web site linked for your chance to product Test A Macbook Air To Review and Keep For Free! They have a load of them to give away.





Free Christmas Gift from Innocent Drinks
The very nice people at Innocent are sending out free Christmas gifts in the post. To get one all you have to do is complete your details in the form on their site before 6pm November 24th. I love surprises!


Free Malibu Mugs, Chocolate Kits, Blenders
Enter the Malibu White Christmas Promotion for your chance to bag yourself one of 200 freebies including Malibu hot chocolate kits, Martini Kits, Mugs, Icing Sets and Blenders.




Win £1,000 Cash with O2
Just pop a few details in the form on the O2 web site linked for your chance to win £1,000 cash plus they will show you the most cost effective options available to you.


11 Free Video Slots Spins
This site is great fun and it's free to start playing. Just register and they will set you up with 11 free video slot spins. If you win anything you get to keep it. No need to deposit a penny.



Free RSPB Nature Booklet, Poster & Stickers
Request your free 'Help Give Nature a Home Guide Pack' from the RSPB web site linked. It's packed full of interesting information and stuff to do for kids to bring them closer to nature. The pack includes Booklet, Poster & Stickers.



Risk-Free Trial of Total White Teeth Whitening Kit
Want visibly whiter teeth in just 7 days? Then try a risk-free trial of Total White teeth whitening. The Total White Teeth Whitening System contains everything you need to achieve a sparkling white smile. You can keep track of your progress with our complimentary shade guide. Request your free trial pack - just pay postage.



Free 12 Piece Dish Set with the 'Italian Table Selection'
If you love the finer things in life – but don't like to pay over the odds – you'll love the new 'Italian Table Selection' Collection from Giordano, one of Italy's oldest and most respected producers of authentic wine and food. Get 12 bottles of wine, 6 authentic Italian food delicacies and a free 12-piece dish set.


Free Babyliss Pro Curler
Get curls to rival the Duchess of Cambridge Kate Middleton with the Babyliss Pro Curler. Register to become a product tester and one could be winging it's way to you.


Risk-free Trial of Weight Loss & Fat Burning Supplement
Raspberry Ketone ProSlim is a revolutionary new supplement that will help you burn fat and lose weight without strict dieting or complex exercise regimes. Take advantage of this Trial Offer and pay only for P&P. Start Burning Fat Effortlessly, Banish Cravings and Increase Metabolism.





Risk free Clear Smoke e-cigarette trial
Request a Risk free trial of ClearSmoke e-Cigarettes and discover a much more healthy and socially acceptable way to smoke. e-Cigarettes contain nicotine but no other harmful chemicals and it is legal to use in most public establishments. Just pay Post and Packaging.


Free Dyson DC40 Vacuum Cleaner
Get your application in to test and keep the Dyson DC40 Vacuum Cleaner. A Dyson makes really light work of cleaning at home. Just register on the web site linked.


Free to set up Debt Plan
iDebtPlan is a free to set up debt plan that gets you out of debt faster. It's totally private, fully online and there are no hidden charges and you could stop paying your debts as soon as today and they can help with all kinds of debts including payday loans, credit cards, overdrafts, catalogues and many more. Just fill in the simple form on the site linked.


Risk-free Trial of Beauty Labs Instant Wrinkle Reducer Serum
BeautyLab's Instant Wrinkle Reducer uses a unique blend of powerful naturally-occuring ingredients, which are designed to fight ageing by encouraging collagen production and restoring your skins natural plumpness, leaving skin feeling firm and supple. Best Kept Skin Secret have got 5,000 trial packs every day. Request your trial pack today and pay only for P&P.




Like Our facebook Page
Help spread the word about Offeroasis.co.uk by 'Liking' our facebook page. Just visit our facebook site linked to and click on the 'Like' button. Thanks for your support.