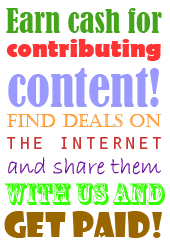 Today's Featured Freebies, Competitions & Deals
It's about time - Happy Friday!

Free Shampoo & Fragrances from The Senses Club (Ladies Only)
We've never seen this freebie before. Register with the Senses Club and complete a short survey about shampoo and fragrances and they will send you free samples form leading brands to try at home. Make sure you select the 'Union Flag' image on the page linked to register for the British Panel. But hurry because there are limited spaces


Free Money For Taking Survey About Smoking
If you are a smoker you can register on the survey web site linked to take part in a short smoking survey and you will immediately earn points you can redeem for cash. What's more enter this month for a chance to win one of the many prizes up for grabs including TV's, iPads and iPhones..


Free Dyson V6 Absolute
If you don't like doing the hoovering then you're not alone but it's got to be done so here is a sweetener. The web site linked are giving away free Dyson V6 Absolute's to test and keep. These mean machines made in Britain will make easy work of your housework. Apply to get one today!


Free Panda Lantern & Apron
Amazing freebie here from lee Kum Kee again. This time there are 1000s of prizes up for grabs, including recipe books, aprons, lanterns and more, simply complete your details on the linked page.




Free Laura Mercier Foundation
Visit your nearest Laura Mercier counter for a free foundation fitting and take home a week long supply of free samples of Laura Mercier foundation. Use the store locator on the page linked to find your nearest outlet.




Free Big Brain Workout Book
Buy a copy of The Telegraph newspapers this Saturday and Sunday and you will find inside two 32-page booklets with 100 challenging puzzles. Go on, flex that brain muscle some.


Daily Paid Surveys & Instant £2.50 for Joining
One Poll is the world's fastest growing online market research company. They send their members Daily Paid Surveys and if you register today they will add £2.50 to your account instantly. You have to confirm your email address to get your £2.50 and see the 12 top paid surveys which you can take right away.


Free McDonalds Gift Card
Pop a few details in the form on the web site linked for your chance to get one of the £100 McDonalds Gift cards they are giving away. Remember, this is fast food so hurry!




Free Copy of Stuffocation by James Wallman
There is a new book giveaway on the Mumsnet web site, this time they have 50 copies of Stuffocation by James Wallman book to giveaway, simply scroll down the linked page and complete your details for a chance to win.




50p Off Bonne Maman New Sweet Treat Desserts
Bonne Maman jams and preserves are the best on the market so can't wait to try their New Sweet Treat Desserts. Fill in the form on the page linked for a 50p off coupon and treat yourself this weekend.




Free McVitie's Branded Bowls and Plates
Small spend required here but it's a sweet buy because if you buy any promotional pack of McVities Pudding Cakes and enter the last four digits of the barcode on the page linked you will be in with a chance of getting 1 of 400 free McVitie's Branded Bowls and Plates.


Free Nando's Gift Card
If you just love a Nandos then you want to be in this to win this. There are a load of free Nando's Gift Cards up for grabs. Just complete the form for your chance to get one.


Free £10 Argos Gift Card
Just received an email from this survey web site saying they are now giving away free £10 Argos Gift cards for participation in their surveys. Simply register and confirm your email address to get access to the exclusive paid surveys and collect an Argos gift card.




£70 off 12 Bottles at Virgin Wines
This is an incredible offer from Virgin Wines that won't last long. At the moment you can get 12 mixed variety bottles of excellent wines for just £39.99 - that's just £3.33 per bottle, a total saving over £70.





Free Collectible Make-Up Bag
Head over to the Glamour web site to see today's Giveaway! Enter for your chance to get a free collectible make-up bag.




Free Halfords Screenwash & Winter Check
A cold snap is on the way with temperatures expected to plummet so get your car down to Halfords for a free winter check and they will even top up your screenwash for you too. How very nice of them.


Free iPhone 6
Worth over £500 the iPhone 6 is the very latest mobile phone from Apple and it's full of amazing functionality along with all the stylish lines you would expect from apple products. One of these could be yours for free when you register to become a tester on the web site linked. They have a bundle to give away over the next few weeks.




£20 FREE & 10 Free Spins on Gala Bingo Slots
This is an exclusive offer from the people who brought you Gala Bingo. Why not have a go at their new Gala Slots game with 10 free spins. Try your luck and if you win with your free spins you're in the money! Plus if you decide to play on, just spend £10 and they will give you £30 to play on slots.


Free Samsung Smart TV
We've had SmartPhones and now everyone is going to want a Smart TV. On the web site linked they are looking for people to test and keep Samsung's attest Smart TV. Applying is quick, easy and free so head over there before all the places are gone!




Win 1 of 10 Celebratory Breaks
Gressingham Duck have teamed up with Hand Picked Hotels to offer you the chance to win 1 of 10 celebratory breaks. Each break includes, Overnight stay for 2 at a Hand Picked Hotel of your choosing, Full traditional breakfast and A glass of champagne with canapes followed by a three course table d'hote dinner.





Free Gillette Venis Swirl Razor
To celebrate the release of the new Venus Swirl and Gillette ProShield razors ASDA are giving you the chance to try one for yourself – and they've got 200 of each to give away! Just enter on the ASDA web site for your chance to get one.




Free Nutribullet Blender
These Nutribullet Blenders are all the rage at the moment and are hailed for sqeezing every last drop of nurtients from whatever you put in them and blitz. It's a tasty way to get your five a day. Apply to be a tester and one of these could be yours for free.




Win a £1,000 Ikea Voucher
Imagine how you could deck out your home with £1,000 to spend at Ikea. Ok stop imagining and make it happen by entering a few details on the page linked for your chance to win this incredible freebie.




Free Cinema Tickets, Popcorn and Drink
Love Film? Then apply to become a Film Reviewer and you could enjoy a FREE night out for two to see a film of your choice. Plus they will also throw in some popcorn and a drink. Sounds like a nice gig to me.


Free One Touch Free Diabetes Monitoring Pack
If you suffer from diabetes or know someone who this freebie is for you. OneTouch Select®Plus is a simple-to-use meter that will help you understand your blood glucose results. When you order your free OneTouch Select®Plus, you will also get their latest lancing system, the OneTouch® Delica®, included in your pack. Request yours today!


Free Starbucks Coffee & Cake for Taking TV Surveys
Head over to the web site linked, register and confirm your email to take part in a survey for the UK's biggest Terrestrial TV companies and they will reward you with High Street shopping vouchers of your choice including a Starbucks Coffee and Cake.


Free Hand Held Scanner & Gifts For Feedback
Join the Nielsen consumer panel for free and they will send you a hand-held scanner designed to read bar codes on items that you buy. In return for scanning items you buy you will earn valuable gift points, redeemable towards gifts offered in their catalogue.


Free pregnancy advice for every stage!
With advice tailored to every stage of pregnancy, 1-to-1 support from our dedicated Careline, a handy pregnancy diary and a free cuddly cow – C&G baby club makes the perfect companion in your amazing journey from bump to baby. We're with you all the way!


£45 worth of Shopping Vouchers for Joining Digital Trends Panel
Join the Digital Trends Panel today and they will give you £15 just for registering and then a further £30 for taking surveys about technology devices, brands and advertising you encounter in your daily life. Its a really easy way to make some spare cash.





Win a 55-inch Samsung TV
Upgrade your home visual entertainment by entering this competition for the chance to win a stunning new 55-inch Samsung TV.


Free Vodafone SIM Cards with Free Minutes, Text and International Calls
Choose the one that's right for you...Top up £10 and on top of your credit you can get: 100 minutes plus 300 texts and 50MB web access with the Freedom Freebee, 300 texts and 500MB web access with the Text and Web Freebee, 1,000 minutes to everyone on Vodafone with the Talk Freebee, 60 minutes of international calls with the International Freebee.




Free John Lewis £50 Coupons
The web site linked have teamed with John Lewis to give away a load of free £50 coupons which can be spent online or in store. Just enter to see if you've bagged one.


Free Stress Ball & £3 per Survey
This is still one of our favourite survey web sites because they send out regular paid surveys and pay out out generous cash rewards for taking part. The pay via Paypal Cash or facebook credits so getting paid is easy.


Free £50 Bingo & 50 Free Spins
This offer is just off the hook! Not only do you get £50 free bingo when you deposit £10 but you also get an incredible 50 free spins too!




Like Our facebook Page
Help spread the word about Offeroasis.co.uk by 'Liking' our facebook page. Just visit our facebook site linked to and click on the 'Like' button. Thanks for your support.