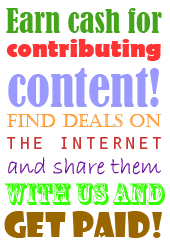 Today's Featured Freebies, Competitions & Deals

Free Lego Sets
Lego is celebrating Christmas in style by giving you the chance to win the ultimate Lego set or 1 of 10 runners up Lego sets. Just head over to the Lego web site linked.


Win £1000 of Luxury Clothes From Vestaire
It's not everyday you get the chance to be kitted out in designer clothes. If you join the Vestaire Collective community you will be in with a chance of bagging a free £1,000 voucher to spend on their online store to buy designer clothes and shoes. Choices include, Chanel Shoes, Chloe Handbags and loads more.




Win a 4 star Thomas Cook holiday in Cyprus
Don't just day dream about some winter sun - make it happen. We've found this brilliant competition from Thomas Cook who are giving you the chance to win a free 4 star holiday to Cyprus.


Free Mini Kilner Jars
These little jars are so handy to have around the kitchen and even the house and Expert Home Tips have loads to give away. Just fill in your details for your chance to get your hands on them.




Free Dolce & Gabbana 'Dolce' Fragrance
This is a wonderful stocking filler freebie for you. Just head over to the web site linked and order your free Dolce & Gabbana 'Dolce' fragrance sample.




Free ASDA Mobile SIM Card with 12GB Data
This is a new free sim offer we haven't seen before. Now you can get a free ASDA Mobile SIM card, which comes with a whopping 12GB of Data when you topup £5. That's enough data to watch a bundle of youtube videos on your mobile during the festive season.


Free Dyson V6 Absolute
If you don't like doing the hoovering then you're not alone but it's got to be done so here is a sweetener. The web site linked are giving away free Dyson V6 Absolute's to test and keep. These mean machines made in Britain will make easy work of your housework. Apply to get one today!




Get a Credit Card Regardless of Credit
Credit Card Options is a brilliant web site for people who need to get a credit card fast without worrying about their credit score. Just select an option from the drop down field (no need to register) and they will show you the options you can choose from. There is a credit card for everyone!


Free Sample of Lacoste L.12.12
You can claim 1 of 20,000 free samples from the Lascoste L.12.12 collection on the SuperSavvyMe web site linked. Simply login or register on the linked page to claim your free sample today before the run out.




Free Box of Taylors Fruit & Herbal Teas
Discover the wonderful range of Fruit & Herbal Infusions with a FREE box. Enter your details to print your coupon, then redeem it at your nearest Sainsbury's, Waitrose or Morrisons store.




Free McDonalds Gift Card
Pop a few details in the form on the web site linked for your chance to get one of the £100 McDonalds Gift cards they are giving away. Remember, this is fast food so hurry!



Free Hand Held Scanner & Gifts For Feedback
Join the Nielsen consumer panel for free and they will send you a hand-held scanner designed to read bar codes on items that you buy. In return for scanning items you buy you will earn valuable gift points, redeemable towards gifts offered in their catalogue.




Free Santa Maria Chilli Con Carne Seasoning Mix
Nothing like a good chilli con carne to warm up your cockles on a cold winter day. So Santa Maria are giving away 5,000 of their finest Chilli Con Carne Seasoning Mixes to help you do just that. Pop a few details in the form to claim yours.




Free Snoopy Keyring
Find out if you are an instant winner of some awesome freebies on the Snoopy & Charlie Brown The Peanuts movie web site. I just love snoopy!




Free Budweiser Christmas Jumper
If you shop online at Tesco, now is the time to get your Christmas beers in because if you buy a buy a pack of Budweiser from Tesco online you will be automatically be entered in a prize draw to win 1 of 1,500 Christmas Jumpers.


Free TasteCard
Slash the cost of dining out this festive season with a TasteCard, which gives you instant access to 50% off or 2 for 1 deals at over 7000 top restaurants. Just pop a few details in the form to get your card and start saving mega money! This is a no brainer!


Free Thorntons Chocolate Hamper
Alert your dentist! Because this is an epic freebie for your sweet tooth. There are a load of free Thorntons Chocolate Hampers up for grabs on the web site linked. Just register to test one and give your feedback when you've finished demolishing them. But hurry because places are going fast.


Free £10 Argos Gift Card
Just received an email from this survey web site saying they are now giving away free £10 Argos Gift cards for participation in their surveys. Simply register and confirm your email address to get access to the exclusive paid surveys and collect an Argos gift card.




Earn up to £100 for Every Article you Write
Do you like writing articles on forums, blogs and review sites? Then you could be quids in if you signup to Blasting News, the service that pays you for every article you write and they publish them on some of the biggest and best sites on the internet. Register today on the site linked to start building up some decent cash.




Free Daily Cultures Tea
Stir just can't stop giving away freebies. Now you can claim free samples of their healthy tea on their web site. You will need to click the "samples" tag behind the aeroplane and sign up to their e-newsletter to receive yours by post.




Free Bottle of Haig Club Whisky
There's no better way to celebrate the Christmas season than with a bottle of Haig Club Whisky, and this year they're giving 1000 people the chance to try out the ultra-smooth Single Grain Scotch Whisky for free. Just complete the form for your chance to get a free sample bottle. What a fabulous freebie find!


Free Lenor Unstoppables Scent Booster
For your chance to get a free Lenor Unstoppables Scent Booster bundle everyday this month just enter on the web site linked and confirm your email address.


Free Nando's Gift Card
If you just love a Nandos then you want to be in this to win this. There are a load of free Nando's Gift Cards up for grabs. Just complete the form for your chance to get one.




Win a 55-inch Samsung TV
Upgrade your home visual entertainment by entering this competition for the chance to win a stunning new 55-inch Samsung TV.


Free Amazon Vouchers for taking part in Shopping Surveys
By taking part in the What I Say and Do panel surveys you will earn high street shopping vouchers plus you may even be asked to try products out at home and keep them afterwards. Just signup on the site linked to start taking part in paid surveys.




Free Febreze Spiced Apple Plug-in
Kiss goodbye to stinky odours or unpleasant smells around the home with a Febreze Spiced Apple plug-in. Everyday this month they are giving these away on the web site linked so head over there and register for one. Be sure to confirm your email address for the chance to get one.


Free Metro Email 'The Slice' (London & SE Only)
This offer is only for residents of London and the South East of England. If that's you then you don't want to be without the weekly email from 'The Slice' from the Metro Newspaper. Signup to find out about the latest, events, offers and openings in London and the South East.


Earn Cash for Your Opinions (Ladies aged between 18 and 24yrs)
The Origin Lounge is a brilliant survey site especially for women and they have just re-opened their panel looking for ladies aged between 18 and 34 yrs to take part in paid surveys about cosmetics, household goods, clothes and more. Just register and confirm your email to start earning.


Free Marriot Hotel Rewards Membership
Sign up to the Marriott Rewards scheme and enjoy a host of complimentary benefits with every hotel stay. You can earn and redeem points at 16 hotel brands, which includes 4,000+ hotels in 70 countries around the world. Benefits include air miles, free wifi, faster checking in and loads more.




Free Homebase Gift Card
Imagine what you could do with a £200 Homebase Gift Card... On the web site linked they have several of these to give away, so enter today and you could be decking your home out with a new look for 2016. Good luck.


Free iPhone 6
Worth over £500 the iPhone 6 is the very latest mobile phone from Apple and it's full of amazing functionality along with all the stylish lines you would expect from apple products. One of these could be yours for free when you register to become a tester on the web site linked. They have a bundle to give away over the next few weeks.





Free Olay Regenerist Night Creams
Olay Regenerist 3 Point Night Cream re-energises your skin's appearance overnight, leaving you with younger-looking skin when you wake up in the morning. Head over to the site linked to get a free sample from the stash they are giving away.


Free Clarins Goody Bag Giveaway
Swoosh are giving away 10 amazing Clarins Beauty Baskets each worth £500. Just register on the swoosh web site inked for your chance to win one of these.


Green Panthera Paid Surveys - £3 for Joining
This is a pretty good paid surevy web site with just four form fields to complete to get started. Just register and confirm your email to instantly be awarded £3 for joining. Then you can look forward to paid surveys on a regular basis.




Dozens of Free M&S Gift Cards
What better time of year to get a free M&S Gift Card. There are dozens of £50 Gift Cards up for grabs on the web site linked. Just enter for your chance to get one.


Free Pregnancy Guides & Advice
Simply register for free with Aptaclub to get free expert nutritional advice, tailored to your stage of pregnancy or parenthood delivered straight to your home address or email account.


Free Vodafone SIM Cards with Free Minutes, Text and International Calls
Choose the one that's right for you...Top up £10 and on top of your credit you can get: 100 minutes plus 300 texts and 50MB web access with the Freedom Freebee, 300 texts and 500MB web access with the Text and Web Freebee, 1,000 minutes to everyone on Vodafone with the Talk Freebee, 60 minutes of international calls with the International Freebee.




Free John Lewis £50 Coupons
The web site linked have teamed with John Lewis to give away a load of free £50 coupons which can be spent online or in store. Just enter to see if you've bagged one.


Free £2 Starbucks Voucher - 6,000 up for grabs
Brilliant this. Just register on the UK's leading Film & TV survey panel, confirm your email and complete your profile to start taking paid surveys on topics about TV shows you enjoy. They will then send you vouchers valued between £2 and £1,000 redeemable at Costa Coffee, Boots, Amazon, Starbucks, B&Q and loads more.


Free Solar Panels For Your Home
A Shade Greener are a BBC recommended, government initiated scheme that are giving away free solar panels and installation, worth up to £14,000. If eligible you could save yourself a fortune in energy bills.


Free Stuff from Boots
Complete the form on the page linked for your chance to bag 6 months supply of Boots Skincare Products.


Free Stress Ball & £3 per Survey
This is still one of our favourite survey web sites because they send out regular paid surveys and pay out out generous cash rewards for taking part. The pay via Paypal Cash or facebook credits so getting paid is easy.


Free £50 Bingo & 50 Free Spins
This offer is just off the hook! Not only do you get £50 free bingo when you deposit £10 but you also get an incredible 50 free spins too!




Like Our facebook Page
Help spread the word about Offeroasis.co.uk by 'Liking' our facebook page. Just visit our facebook site linked to and click on the 'Like' button. Thanks for your support.