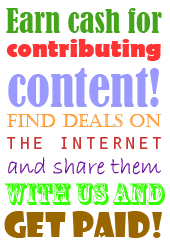 Today's Featured Freebies, Competitions & Deals



Free Nokia Lumia 530 with Free 24 Month Contract
This is an incredible freebie. Get a free Nokia Lumia with 250 minutes, 500MB data and 5,000 free texts every month for just £7.50 a month but you can reclaim that money back with a cashback claim, so essentially you get a Free Nokia Lumia 530 with Free 24 Month Contract. It will cost you NOTHING for 24 months!


Free Universal Remote Control for Taking Part in TV Surveys
Register to take part in TV surveys about shows such as Strictly Come Dancing, The Apprentice, X-Factor and loads more because at the moment the survey site linked to are giving away free Universal remote Controls for your participation.


Free RSPB Nature Booklet, Poster & Stickers
Request your free 'Help Give Nature a Home Guide Pack' from the RSPB web site linked. It's packed full of interesting information and stuff to do for kids to bring them closer to nature. The pack includes Booklet, Poster & Stickers.


Free 5cl Bottle of Baileys
To celebrate you and your #FabulousFriends, Baileys and Cosmo are offering you a little Baileys love this winter. The first 10,000 to complete their details will receive a free 5cl bottle of Baileys – Hurry don't miss this!





Free Macbook Air
WOWSER! Opportunities like this don't come around very often. Just register on the web site linked for your chance to product Test A Macbook Air To Review and Keep For Free! They have a load of them to give away.





Free Samsung 3D HD Smart Curved LED TV
Register on the web site linked for your chance to become a technology testers to rate and review the Samsung 48 inch 3D HD Smart Curved LED TV, and the best bit is you get to keep it!



Free Pyrex Dish from Colman's
Colman's have got 100 Pyrex Dishes to give away in their draw. Enter for your chance to get one. I can smell a yummy fish pie on a winter's night if I win one.


Free Gucci 'Premiere' Fragrance
Gucci introduces Gucci Premiere Eau de Toilette, a lighter, more delicate incarnation of its signature scent. They say they created it as a celebration of the thrill of success. So if you want to smell of success then head over to the Gucci facebook page linked and fill in a few details to request a sample.


Risk-Free Trial of Total White Teeth Whitening Kit
Want visibly whiter teeth in just 7 days? Then try a risk-free trial of Total White teeth whitening. The Total White Teeth Whitening System contains everything you need to achieve a sparkling white smile. You can keep track of your progress with our complimentary shade guide. Request your free trial pack - just pay postage.


Free iPad Air
Bestbuymoney and Hotels.com are giving you the chance to get a free iPad Air. Just register for your chance to get one.


Free O.P.I Gwen Stefani Nail Polish
There are loads of free bottles of O.P.I Gwen Stefani Rock Starlets Mini Collection Nail Varnish up for grabs on the web site linked. Plus 10 people will win an entire O.P.I Gwen Stefani Rock Starlets Mini Collection gift set.


Free Joseph Joseph Fold-Flater Cheese Grater
Jarlsberg Cheese have 100 amazing freebies from Joseph Joseph to be won including adjustable rolling pins, bread bins, nest bowls, fold-flat graters and more. Enter on the facebook page.



Free Ferrero Rocher Mini Pyramid Chocolate Box
I just love a Ferrero Rocher freebie. Take part in the Ferrero Rocher Magic Tree promotion on facebook because they have over 1,000 freebies up for grabs including 650 boxes of their delicious chocolate, Gold iPhones, Cartier Perfume, Michael Kors Handbags, Gold Ray Bans, Dior Manicure Set and Gold Champagne. Awesome!



Win a Special Occasion/Party Dress
Hey! November and December are party season so if you want to look your best in a brand new never seen before party dress, this is the competition for you. Forever Unique are giving you the chance to win a special occasion dress. Just head over there and pop a few details in the form. Their dresses are lush!



Free Dulux Paint Samples
Dulux are giving away FREE tester paint samples. Select your shade and add the tester paint to the basket. Complete the checkout process using the discount code 'TESTERGIVEAWAY'.




Free Limited Edition Ristorante Pollo Arrabiata Pizza
I just love it when we find a free lunch freebie and this is definitely one of them. Just pop a few details into the form on the web site linked to and they will send you a voucher within the next 28 days to claim your free Ristorante Pollo Arrabiata Pizza. I can't wait!


Free Sample of Always Discreet
SavvyCircle are looking for 1,000s of people to trial Always Discreet liners and pads. Just register for the panel and if selected you will receive one full-size pack of Small Pads, one full-size pack of Pads+ Long, £1 off vouchers for any Always Discreet liners or pads and £2.50 off vouchers for Always Discreet pants.


Free 12 Piece Dish Set with the 'Italian Table Selection'
If you love the finer things in life – but don't like to pay over the odds – you'll love the new 'Italian Table Selection' Collection from Giordano, one of Italy's oldest and most respected producers of authentic wine and food. Get 12 bottles of wine, 6 authentic Italian food delicacies and a free 12-piece dish set.


Free Blue Cedrat Fragrance
You can try Comme de Garcons new fragrances for free. Enter your details to claim your free sample of Blue Cedrat and Blue Santal.




Free Cookie from Millie's Cookies
Vouchercodes.co.uk have teamed up with Millie's Cookies to offer you a free voucher to claim a free cookie instore. Just enter a few details to claim yours. Valid until November 6th.



Free Babyliss Pro Curler
Get curls to rival the Duchess of Cambridge Kate Middleton with the Babyliss Pro Curler. Register to become a product tester and one could be winging it's way to you.


Risk-free Trial of Weight Loss & Fat Burning Supplement
Raspberry Ketone ProSlim is a revolutionary new supplement that will help you burn fat and lose weight without strict dieting or complex exercise regimes. Take advantage of this Trial Offer and pay only for P&P. Start Burning Fat Effortlessly, Banish Cravings and Increase Metabolism.





Risk free Clear Smoke e-cigarette trial
Request a Risk free trial of ClearSmoke e-Cigarettes and discover a much more healthy and socially acceptable way to smoke. e-Cigarettes contain nicotine but no other harmful chemicals and it is legal to use in most public establishments. Just pay Post and Packaging.




Win an iPad3 with Western Union
Western Union have got another brilliant competition to win an iPad 3. Just register on the Western Union Web site linked to be in with a chance of winning.


Free Dyson DC40 Vacuum Cleaner
Get your application in to test and keep the Dyson DC40 Vacuum Cleaner. A Dyson makes really light work of cleaning at home. Just register on the web site linked.


Free Clarins Goody Bag Giveaway
Swoosh are giving away 10 amazing Clarins Beauty Baskets each worth £500. Just register on the swoosh web site inked for your chance to win one of these.




Free Tesco Gift Cards
There are free £100 Tesco Gift Cards being given away every week on the site linked. Just enter for your chance to get one of these most useful freebies.


Free to set up Debt Plan
iDebtPlan is a free to set up debt plan that gets you out of debt faster. It's totally private, fully online and there are no hidden charges and you could stop paying your debts as soon as today and they can help with all kinds of debts including payday loans, credit cards, overdrafts, catalogues and many more. Just fill in the simple form on the site linked.


Risk-free Trial of Beauty Labs Instant Wrinkle Reducer Serum
BeautyLab's Instant Wrinkle Reducer uses a unique blend of powerful naturally-occuring ingredients, which are designed to fight ageing by encouraging collagen production and restoring your skins natural plumpness, leaving skin feeling firm and supple. Best Kept Skin Secret have got 5,000 trial packs every day. Request your trial pack today and pay only for P&P.


Free George by ASDA £5 Gift Card
Complete a short survey on the site linked for your chance to bag one of the many George by ASDA £5 gift cards they are giving away.





Like Our facebook Page
Help spread the word about Offeroasis.co.uk by 'Liking' our facebook page. Just visit our facebook site linked to and click on the 'Like' button. Thanks for your support.