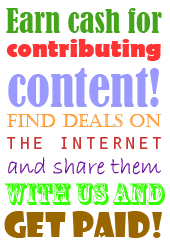 Today's Featured Freebies, Competitions & Deals

Free Daily Deals For Restaurants, Spas, Cinema Tickets
This place is just awesome. I just can't believe some of the amazing offers I've had since joining. Register on the Bespoke from Barclays web site to see the massive discounts at your favourite restaurants, cinemas, spas and load more.


Free Yves Rocher Summer Collection Cosmetic Hampers
Yves Rocher are giving away 50 amazing Summer Collection Beauty Cosmetics Hampers and a stay for two in an Eco Hotel Spa in their summer bonanza. Just complete one field on the Yves Rocher web site for your chance to get one. Each beauty Hamper contains Eye Pencil, Mascara, Gloss, Bronzer, Blush, Nail Polish, Eau de Toilette and shower gel.


Win a Nikon SLR Digital Camera
Barclays Bespoke Offers have teamed up with Hotels.com to give you the chance to win a fantastic Nikon SLR Digital Camera plus everyone that enters also gets a free 10% off Hotels.com coupon.




Free Full-Size Bottle of Lenor Unstoppable in-wash Scent
If you managed to get in on time to request a free mini 30g sample of Lenor in-wash Scent booster you can also try to get a full size bottle from SuperSavvyMe. They have 1,000 bottles to give away and all you have to do is take a 3 question survey.


Free Dulux Paint Colour Samples
Great time of year to give your home a lick of fresh paint. At the moment you can claim your free 30ml tester pot using voucher code TESTERGIVEAWAY at the checkout on the Dulux web site.





Free Macbook Air
WOWSER! Opportunities like this don't come around very often. Just register on the web site linked for your chance to product Test A Macbook Air To Review and Keep For Free! They have a load of them to give away.




Free Lego Model Building Instructions
Found this handy resource for Lego enthusiasts. There are over 33,000 building instructions available on the Lego web site which date back to sets packed in 2002.


Free Clarins Goody Bag Giveaway
Swoosh are giving away 10 amazing Clarins Beauty Baskets each worth £500. Just register on the swoosh web site inked for your chance to win one of these.




Free Tassimo Fidelia Coffee Machine
Product Testing have another load of incredible freebies here. Just register for your chance to test a free Tassimo Fidelia Coffee Machine and keep it.




Home Owners - Earn up to £700 per year TAX FREE
If you are a home owner you can earn £700 per year TAX FREE with Solar panels, plus there are Government incentives that can save you 70% of the cost of installation. Just request a quote on the eCo Experts web site linked for more details.




Free Grizzly Active Sports Cream
Grizzly Active Sports Cream is specially formulated to help with the dreadded chaf so if you are the sporty type why not request a free sample of this stuff and try it out on your next sweaty workout.





Free oh no Babygrow from Churchill
To celebrate Prince George's first birthday, Churchill has created a babygrow fit for a Prince. To win one of your very own, all you have to do is like the post on the Churchill facebook page. There are 150 to give away. Oh Yes!


Risk-free Trial of Weight Loss & Fat Burning Supplement
Raspberry Ketone ProSlim is a revolutionary new supplement that will help you burn fat and lose weight without strict dieting or complex exercise regimes. Take advantage of this Trial Offer and pay only for P&P. Start Burning Fat Effortlessly, Banish Cravings and Increase Metabolism.


Free Primark Voucher for Taking Part in TV Surveys
Like TV - Like Shopping? Have you got an opinion on shows such as Master Chef, Top Gear, Match of the Day, Eastenders, Antiques Roadshow, Countryfile, Panorama and others. Then join the GFK Terrestrial TV Panel because they are giving away free Primark Vouchers for taking part in surveys?




Free Tesco Fuel Vouchers
Ente this promotion from Tesco Petrol Filling Station on facebook for your chance to get a free £10, £20 or £50 Tesco Petrol Gift Card. Every month they will select some people to get a free voucher.





Win 1 of 5 Yamaha Guitars
Guitar Guitar have 5 Yamaha F-310 Guitars and acoustic packs to give away in this awesome draw. There are 5 super easy ways to enter the draw.




Free Dyson DC40 Vacuum Cleaner
Get your application in to test and keep the Dyson DC40 Vacuum Cleaner. A Dyson makes really light work of cleaning at home. Just register on the web site linked.




Free Tesco Gift Cards
There are free £100 Tesco Gift Cards being given away every week on the site linked. Just enter for your chance to get one of these most useful freebies.


Free Hand Held Scanner & Gifts For Feedback
Join the Nielsen consumer panel for free and they will send you a hand-held scanner designed to read bar codes on items that you buy. In return for scanning items you buy you will earn valuable gift points, redeemable towards gifts offered in their catalogue.




Win 1 of 10 Swingball Sets with Clover
Clover have got another competition for you lovely Clover UK fans! They have 10 Swingball sets to give away and all you have to do to get one is comment on the facebook status and tell them what you would do on your ultimate day in the sun. These things are brilliant, I got one last summer and still love bringing it out on a nice sunny day.





Win a fabulous short break in Dorset
Simply like the Visit Dorset facebook page, select which holiday you would prefer, submit some details and enter. Enter again for a chance to win another prize.





Win £500 Worth of Firewood & Extras
Please forgive us for mentioning the word 'Christmas' when we're only just half way through the year but hey don't shoot the messenger. The Luxury Wood Company love Christmas and to help you through the colder months they have put together a fantastic competition!


Free JVC Headphones from Richer Sounds
Richer Sounds have got another incredible give away for their VIP members. This time just print off the voucher on the page linked and take into a Richer Sounds to claim a free pair of JVC headphones. If you're not a VIP member then just go to the richersounds.co.uk web site and join for free.


Free T-Shirt from Macmillan shaveorstyle.org.uk
Want to do something for charity without spending a penny? Then commit to shaving or styling your hair by filling in a short form on the Macmillan web site and they will send you a free Shave Style T-Shirt. The last two questions on the page are optional so you don't have to fill them in.


Win a Romantic Weekend for Two in Paris
France's Number 1 Train Service SNCF are running a wonderful competition offering you the chance to win a romantic weekend in Paris for two people. Competition closes on the 15th of July so don't miss this opportunity.





Free Max Factor Gel Shine Lacquer
Gel Nail Formulations are the best thing since nail varnish. They look nicer and last longer. The SuperSavvyMe web site have got a load of free samples to give away.



Free to set up Debt Plan
iDebtPlan is a free to set up debt plan that gets you out of debt faster. It's totally private, fully online and there are no hidden charges and you could stop paying your debts as soon as today and they can help with all kinds of debts including payday loans, credit cards, overdrafts, catalogues and many more. Just fill in the simple form on the site linked.




Win Laser Eye Surgery with Optical Express
Win Laser Eye Surgery with Optical Express worth over £3,000 and you will benefit from Instant freedom from the inconvenience of wearing glasses or contact lenses, Enjoy playing sports and taking part in leisure activities more often and some many other amazing benefits. Just fill in the short form on the right of their page linked.


Free 12 Piece Dish Set with the 'Italian Flavours Selection'
If you like wine and Italian food – you'll love the new 'Italian Flavours Selection' Collection from Giordano, one of Italy's oldest and most respected producers of authentic wine and food. Get 12 bottles of wine, 6 authentic Italian food delicacies and a free 12-piece dish set.


Risk-free Trial of Beauty Labs Instant Wrinkle Reducer Serum
BeautyLab's Instant Wrinkle Reducer uses a unique blend of powerful naturally-occuring ingredients, which are designed to fight ageing by encouraging collagen production and restoring your skins natural plumpness, leaving skin feeling firm and supple. Best Kept Skin Secret have got 5,000 trial packs every day. Request your trial pack today and pay only for P&P.


55 Euromillions Lines for £1
Here is a brilliant way to increase your chances of winning the Euro Millions Lottery. You can get 55 entries for just £1! Hurry and visit the site linked.


Free George by ASDA £5 Gift Card
Complete a short survey on the site linked for your chance to bag one of the many George by ASDA £5 gift cards they are giving away.





Risk free Clear Smoke e-cigarette trial
Request a Risk free trial of ClearSmoke e-Cigarettes and discover a much more healthy and socially acceptable way to smoke. e-Cigarettes contain nicotine but no other harmful chemicals and it is legal to use in most public establishments. Just pay Post and Packaging.




Like Our facebook Page
Help spread the word about Offeroasis.co.uk by 'Liking' our facebook page. Just visit our facebook site linked to and click on the 'Like' button. Thanks for your support.