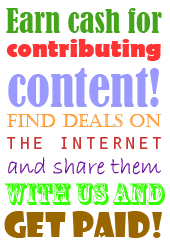 Today's Featured Freebies, Competitions & Deals
Happy Hump of the Week - It's Wednesday!



Free Government Backed Boiler Grants
If you are a home owner or private tenant and have a boiler older than 7 years and are on certain benefits you could be one of the 2 million people yet to claim a free Government Backed Boiler Replacement. Pop a few details in the form on the Boiler Grants web site to find out if you are eligible.




Free High Street Vouchers for Taking Part in TV Surveys
Head over to the web site linked, register and confirm your email to take part in a survey for the UK's biggest Terrestrial TV companies and they will reward you with High Street shopping vouchers of your choice including a Starbucks Coffee and Cake.




Free Products to test at Home & Earn Vouchers
Register on the Mingle web site to participate in online surveys and test products at home and be rewarded in mingle points, which you can exchange for high street shopping voucher. Free products and free cash, what's not to like?




£50 Free Bingo from Ladbrokes
Hey Bingo fans! Ladbrokes have launched their new games and to celebrate they are giving away a mega £50 free bingo cash. Head over there now to cash in and play!




Free Cider from Bulmers
Head over to the Bulmers web site and verify your age to claim a free bottle of their lovely cider. Plus you will also be entered into a competition for the chance to win a glamping trip for 4 with surf lessons OR A FREE main meal!




Free Hardback Copy of The Swimming Pool
Emerald Street seem to be taking a break from giving away nice beauty products in favour of books. Ok let's feed our mind for a bit instead of our vanity. There are 100 copies of The Swimming Pool on hardback by Louise Candlish up for grabs. Sounds like a really good read. Enter on the Emerald Street web site.




Free Bostik Bikes & Cycle Jerseys
Cycle fans must enter this competition from Bostik Adhesives. They have 50 racing bikes and 75 cycle jerseys up for grabs as well as 2 VIP Tickets to the 2017 Tour de France. So on your bike and head over there to enter!





Free Currency Card with £5 Travel Money
The Caxton FX currency card is a great alternative to using cash, travellers cheques or a bank card abroad. Their award-winning currency card + app, offers a simple, smart, great value way to spend globally. Register for your free card today, which comes with £5 free cash to get you started.




Free Packet of Walkers Sunbites Popcorn
Starting on Thursday 26th May the O2 Priority & Boots fortnightly giveaway will be updated with a free packet of Walkers Sunbites Popcorn. To get one you just need to be an O2 Priority member.




Free Elegance Petite Swarovski Bracelet
Red Carpet Jewellers have got another amazing freebie on at the moment. They are giving away a FREE Elegance Petite Swarovski Bracelet Worth £40! To get this for free just use the code 'J16' at the checkout (small P&P charge). This elasticated, petite Swarovski crystal encrusted tennis bracelet will add a little sparkle to your day.




Free Dyson V6 Absolute
If you don't like doing the hovering then you're not alone but it's got to be done so here is a sweetener. The web site linked are giving away free Dyson V6 Absolute's to test and keep. These mean machines made in Britain will make easy work of your housework. Apply to get one today!





Free £100 Pizza Hut Experience
Signup to become a Pizza Hut mystery diner and you could be selected to spend £100 on a Pizza Hut feast in a town close to you. This is a great opportunity to treat the whole family to a tasty freebie!




Free De'Longhi Coffee Machine
How would you like to have a shinny new Italian made De'Longhi Coffee machine sitting pretty in your kitchen? Just complete the form on the web site linked and you could be one of the people in your area chosen to try and keep one of these.




Free 100 Bag pack of Birchall English Breakfast Tea
Thanks to Kate Tideswell for posting this on our facbook page. AT the moment you can get £5 off with no minimum spend on the Birchall Tea web site when you use the code 'BT5FAN01' at the checkout. There is a postage charge of £2.75 but this is still a brilliant offer. We've linked to the English Breakfast 100 bag pack which costs £4.75 but you could spend your free £5 on anything you like. We bought a pack this morning so hurry before the coupon ends.




Win a Polaroid Snap Digital Camera
Polaroid have recreated the magic of classic instant photography with the Polaroid Snap - the newest way to snap, print, and share life instantly. These colourful little cameras are lots of fun and you actually get a photo you can hold - imagine that! Enter for your chance to win one of them.





Free Bra Fitting at Selfridges
They say 80% of women are wearing the wrong bra size - hmm. If you are in the London area why not pop down to Selfridges on Oxford Street for a free bra fitting in their lush new 'Fit Studio' featuring 20 beautiful lit changing rooms and 10 dedicated lingerie experts on hand to answer any bra-fit questions. Who thought bra fitting could be so fun? See the page for details.




Win a FIAT 500
Want to win a charming recreation of a much-loved classic, the Fiat 500 Lounge, absolutely free in this latest competition. With all modern amenities and top-level safety features, this unashamedly retro run-around is not only a lot of fun to drive but also economical and full of character.




Daily Paid Surveys & Instant £2.50 for Joining
One Poll is the world's fastest growing online market research company. They send their members Daily Paid Surveys and if you register today they will add £2.50 to your account instantly. You have to confirm your email address to get your £2.50 and see the 12 top paid surveys which you can take right away.




Free Cleaning Cloth Sample
e-Cloths break up and remove more grease and dirt, incredibly using just water, simply register your details on their page to receive a free e-cloth for glasses and phones.




Drynites £2 off Coupon
You can now claim £2 off your next purchase of DryNites. Simply fill in your details on the Drynites web site linked to claim your coupon.




Free £40 Bingo Cash & 150 Spins
This is one of the most generous Bingo freebies we've come across in a while. Just open an account on the Butler's Bingo web site and deposit £10 and they will give you an extra £40 instantly. Plus you also get 150 free spins on their Rabbit in the Hat game. With all that it shouldn't be too difficult to win some cash.




Win 1 of 10 Little Dish Half-Term Survival Kits
Half-term is within touching distance, so you're going to need ways to keep the kids entertained. Head over to the Little Dish facebook page because they are giving away 10 Half Term Survival kits, which include a family cookbook, a cute apron for your little chef, a fantastic colour-in tablecloth, a box of Little Dish Go Gos and some vouchers so you can stock up on our healthy toddler meals.




Win 1 of 6 Roberts Classic DAB Radios
For your chance to WIN 1 of 6 of these Roberts Classic DAB radios, simply enter your details on the Audio Affair facebook page linked before the end of the month.





Win a Weekend in Mallorca
Whether you've got your summer holiday sorted or not you don't want t miss the chance to have an all expenses paid weekend break in sunny Mallorca. Pop a few details in the form on the page linked and you could be jetting off with a friend for a relaxing weekend on this sunny Balearic island.




Win 4 Tickets to Thorpe Park with Tetley
Tetley are so proud of their Tea Cup ride at Thorpe park that they would like you to have a go swirling around in a huge cuppa. Enter their competition for the chance to win 4 tickets to Thorpe Park.




Free pregnancy advice for every stage!
With advice tailored to every stage of pregnancy, 1-to-1 support from our dedicated Careline, a handy pregnancy diary and a free cuddly cow – C&G baby club makes the perfect companion in your amazing journey from bump to baby. We're with you all the way!




£5 for joining New Vista!
Your opinion counts and with Newvista when you share your opinions on products and services we reward you! Earn up to £1 per survey completed. Sign up today and get a free £5 bonus added to your account INSTANTLY!




Free Hand Held Scanner & Gifts For Feedback
Join the Nielsen consumer panel for free and they will send you a hand-held scanner designed to read bar codes on items that you buy. In return for scanning items you buy you will earn valuable gift points, redeemable towards gifts offered in their catalogue.




Free MAC Beauty Products
On the web site linked they are looking to recruit more product testers to test some MAC cosmetics! Just register for the panel and you could be selected to try out anything from lipsticks and mascaras, eyeliners, cleansers and more. It's a brilliant way to get some free top quality makeup.




£45 worth of Shopping Vouchers for Joining Digital Trends Panel
Join the Digital Trends Panel today and they will give you £15 just for registering and then a further £30 for taking surveys about technology devices, brands and advertising you encounter in your daily life. Its a really easy way to make some spare cash.




Free Nutribullet Blender
These Nutribullet Blenders are all the rage at the moment and are hailed for sqeezing every last drop of nurtients from whatever you put in them and blitz. It's a tasty way to get your five a day. Apply to be a tester and one of these could be yours for free.




Free MAC Lipstick
Every month on the web site linked they are going to select 20 people to receive a free MAC Lip stick to test. If you want to be one of them just pop a few details in the form.




Free OralB Pro 3000 Electric Toothbrush
You only get one set of teeth so treat them well. Enter on the web site linked for your chance to be get one of the many OralB Pro 3000 Electric Toothbrushes up for grabs in your area.




Like Our facebook Page
Help spread the word about Offeroasis.co.uk by 'Liking' our facebook page. Just visit our facebook site linked to and click on the 'Like' button. Thanks for your support.