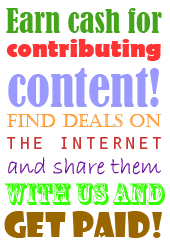 Today's Featured Freebies, Competitions & Deals

Free Solar Panels For Your Home
A Shade Greener are a BBC recommended, government initiated scheme that are giving away free solar panels and installation, worth up to £14,000. If eligible you could save yourself a fortune in energy bills.


20 Free Scratch Cards - £200,000 Instant Jackpot!
Scratch2Cash are giving away 20 free scratch cards at the moment just for registering on the web site. Claim your free scratch cards and see if you can win the jackpot of £200,000. You have nothing to lose and everything to gain.


Free £45 for Surfing the Web
Surfing the web has never been so rewarding! Just register on the Digital Trends web site and they will pay you £45 just for surfing the web. This panel won't be open for long because they only need 6,000 people so hurry to get in there.




50,000 Free Nectar Points
If you shop online at Sainsbury's and have a Nectar Card then have a look at this sweet freebie. Buy any Rowntrees sharing bag and enter your Nectar card number at the online checkout for a 1 in 8 chance of winning 50,000 Nectar Points (cash value of £250). Those odds sound good to me.




Free Old English Inns Teddies
Ted Chef has got ten adorable little Old English Inns teddies to give away! To enter, Like the Post and Comment on the facebook page linked, telling them who you'd give yours to if you won one! Winners will be picked on Friday.


Free Stress Ball & £3 per Survey
This is still one of our favourite survey web sites because they send out regular paid surveys and pay out out generous cash rewards for taking part. The pay via Paypal Cash or facebook credits so getting paid is easy.


Get your complimentary guide to Better Renting
Get Shelter's FREE guide to getting most out of your rented home. Find out how to: Understand your contract, Make sure repairs are done, Keep costs manageable, Get your deposit back when you leave and much more! Request your free guide on the Shelter web site linked.




Free Pack of Cheetos
Keystore have got another freebie coupon. Just print off or take a pic on your mobile and take in store to claim a free pack of Cheetos. Valid until 1st August.


Free Oral B Pro Toothbrush
This looks like a brilliant freebie. Just complete the form for your chance to test 1 of 4 Oral-B Pro Electric Toothbrushes they are giving away every day.


Free Issue of Country Home & Interiors Magazine
Every issue of Country Home & Interiors Magazine offers relaxed and beautiful reader homes, interiors inspiration and shopping ideas, expert consumer guides, country gardens, plus seasonal food and lifestyle ideas. Pop a few details in the form linked to for a free copy.


Free Hairdresser's Cape
'Brave the shave' is another brilliant campaign from Macmillan. Signup and commit to shaving your hair and they will send you a specially designed Brave the Shave hairdresser's cape to help, along with a badge so people know the challenge you're taking on.




Free Stripe Top Knitting Pattern
Another brilliant free knitting pattern from Let's Knit. Anniken Allis' stripy top is a great garment for beginners looking to give colour work a go. If you are up for a challenge and want something original to wear then head over there to download the pattern.


Free Colgate Sensitive Pro-Relief Toothpaste
Colgate are running a money back guarantee on their Colgate Sensitive Pro-Relief toothpaste range (35ml and 75ml). So if you are not 100% satisfied Colgate will give you your money back.


Free Leather Luggage Tags
Register on the web site linked for amazing package holiday deals starting from just £100 and you could also receive a free leather luggage tag. There are 1,000 to be had.




Free Tena Lady Products
There are 6 different Tena Lady products you can request a free sample of. Just head over there and select the one you want to try.


Free Max Factor Smokey Eye Drama Kit
Everday this July there are 5 Max Factor Smokey Eye Drama Kits in Lavish Onyx each day to be had on the web site linked. Enter for your chance to bag one.


Daily Paid Surveys & Instant £2.50 for Joining
One Poll is the world's fastest growing online market research company. They send their members Daily Paid Surveys and if you register today they will add £2.50 to your account instantly. You have to confirm your email address to get your £2.50 and see the 12 top paid surveys which you can take right away.


Free Spirit Measures and Gifts from Jack Daniels
Register on the Jack Daniels web site to become one of their friends and from time to time they will send you cool stuff like spirit measures, coasters, dice and loads more. Just enter your D.O.B on their page and then scroll down the page to 'Register with Jack Daniels'.




Free Goodfella's Deli Pizza
To celebrate the arrival of their new Deli Di Lusso pizza range, Goodfellas Pizza are giving 10 of their facebook friend a free pizza in the flavour of their choice. See the facebook page linked.


Free Aqua Card & Credit Report
aqua classic card say yes to someone every 3 minutes and you get a credit limit of £250-£1200 straight away, free unlimited access to your credit report, a possible credit limit increase after 4 months, UK-based call centre staff to answer all of your questions and you can manage your account online. Apply for an aqua classic card today!


Sign the Greepeace 'Save the Arctic' Petition
Greenpeace want to declare a global sanctuary in the Arctic, which will include a ban on drilling for oil and industrial fishing. If you support that idea then just sign the petition on the Greenpeace web site linked. After signing the petition you will be able to download their Arctic image gallery to use as wallpapers on your desktop or print off as posters.


Free Heinz BBQ Kits
Heinz are quite sure the sun is soon going to shine, that's why they are giving away 400 free BBQ Kits, each containing a chef's hat, apron, mits, tongs, and a selection of four Heinz sauces. Finger licking stuff! Head over to the Heinz web site for your chance to get your free BBQ Kit.



Free Sample of Always Discreet
SavvyCircle are looking for 1,000s of people to trial Always Discreet liners and pads. Just register for the panel and if selected you will receive one full-size pack of Small Pads, one full-size pack of Pads+ Long, £1 off vouchers for any Always Discreet liners or pads and £2.50 off vouchers for Always Discreet pants.


Free £2 Starbucks Voucher - 6,000 up for grabs
Brilliant this. Just register on the UK's leading Film & TV survey panel, confirm your email and complete your profile to start taking paid surveys on topics about TV shows you enjoy. They will then send you vouchers valued between £2 and £1,000 redeemable at Costa Coffee, Boots, Amazon, Starbucks, B&Q and loads more.


Free Kitchen AID Mixer
Over on the Test Panel web site until the end of July they are giving away 4 of these Kitchen Aid Mixers. If you're lucky enough to get one you will get to test it, provide feedback and best of all, keep it.


Free Issue of Livingetc Magazine
From the best new furniture and decorating ideas to the coolest accessories, Livingetc presents you with everything you need to create your perfect home. Request your free issue today, it's a brilliant read.


Free Six-Piece Cook & Serve Set
These porcelain cook and serve dishes are ideal for cooking dishes such as lasagne or cannelloni, and serving straight to the table. Get the entire set for free along with six Italian food specialities when you buy 12 bottles of wine for just £59.95.




Free Pampers Baby Dry Nappies & Wet Wipes
Pampers are looking for 5,000 people to trial the new Pampers Baby Dry Nappies & Wet Wipes. Just head over to the web site linked to apply. Successful applicants will get a full size essential pack of Baby Dry nappies, pack of 56 Sensitive Wipes, mini cotton bags for you to pack up mini kits, money off coupons and more.


Win £500 Tesco Vouchers
This is a brilliant new competition offering you the chance to win a £500 Tesco voucher. Really easy to enter too.


Free Cuddly Cow Toy & Pregnancy Diary
If you have a newborn or are expecting then you can register on the Cow & Gate Baby Club web site for great tips, advice and offers, plus get your FREE cuddly cow and more!!


£8,000 in Free Bingo
This is a corker of a freebie from the UK's biggest and best Bingo web site - Gala Bingo are offering you up to £8,000 in free bingo. Register on the Gala web site to start rolling in the cash.


Free £5 Foxy Bingo Cash - No Deposit Required!
Foxy Bingo is the UK's favourite bingo brand and they are giving away £5 free bingo cash to new members. Just register and start playing with your free cash and keep your winnings. Also if you deposit £10 they will give you £50. This is an amazing offer that won't last long so dive in..




Like Our facebook Page
Help spread the word about Offeroasis.co.uk by 'Liking' our facebook page. Just visit our facebook site linked to and click on the 'Like' button. Thanks for your support.