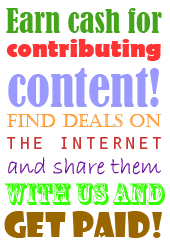 Today's Featured Freebies, Competitions & Deals



Win a Luxury Trip for 2 to Paris
Western Union have a great competition running at the minute. Just enter for a chance to win a flight and a 2-night stay at a four-star hotel in Paris.


Free Pack of Werther's Original Sweets
We've teamed up with Broadway Travel to offer you the chance to win 1 of 100 packets of Werther's Originals Butter Candies. Just enter your details on the page linked and tell us what kind of holidays you like for your chance to get one.


7 Free £1 Scratchcards: 1 in 3 a Winner - No Deposit Req
We just found a new site for you all to check out and you could win some free cash. All you need to do is signup for free and get £7 added to your account which you use to buy 7 free scratch cards plus if you win, you can keep your winnings. No Deposit Required!




Home Owners - Earn up to £700 per year TAX FREE
If you are a home owner you can earn £700 per year TAX FREE with Solar panels, plus there are Government incentives that can save you 70% of the cost of installation. Just request a quote on the eCo Experts web site linked for more details.


Free YSL New Fusion Foundation
Enter on the Debenhams Beauty Club facebook page linked for your chance to be the first to try YSL's New Fusion Foundation. 10 winners will be selected on August 1st.


Free Wildflower Seeds & Bee Happy Tea Towels
This summer the Happy Egg Company want to help give bees a helping hand so they are giving away 1,000s of packets of wildflower seeds, Bee Happy Tea Towels and activity books. Just vot for your favourite meadow on the we site linked for your chance to get an instant freebie.





Free Woodland Trust Nature Detectives Butterfly Pack
Something fun for the little ones here. Print off the free butterfly, moth and caterpillar activities sheets from the woodland trust web site and sit the kids down for some peace and quiet. A lot for them to learn about butterflies also. Who knows a career in Lepidopterology could be on the cards.




Free USB Stick & Apron
Head over to the Nutella web site and scroll down the page to there it says 'Contest' and enter for your chace to win 1 of 100 Nutella Aprons or 1 of 100 Nutella USB Sticks. This freebie is so good it's nuts!


Free Jeep Grande Cherokee Test Drive
The new Jeep Grande Cherokee is now on the market and you can test drive one of these. Just pop a few details in the form on their page to book your test drive.


Free Sample of Ghost Eclipse Fragrance
Ghost Eclipse is a new Invigorating, dynamic and fresh scent from the GHOST fragrance collection. Visit the site linked and scroll to the second page and click the 'Free Sample' button.



Win a Nikon SLR Digital Camera
Barclays Bespoke Offers have teamed up with Hotels.com to give you the chance to win a fantastic Nikon SLR Digital Camera plus everyone that enters also gets a free 10% off Hotels.com coupon.




Win a Ceiling Mirror & Disco Ball
This week is a RAVE week on the Urban Eat's facebook page so they are giving away an eight inch ceiling mounted mirror ball and a disco ball!





Free Macbook Air
WOWSER! Opportunities like this don't come around very often. Just register on the web site linked for your chance to product Test A Macbook Air To Review and Keep For Free! They have a load of them to give away.


Free Clarins Goody Bag Giveaway
Swoosh are giving away 10 amazing Clarins Beauty Baskets each worth £500. Just register on the swoosh web site inked for your chance to win one of these.




Free Del Monte Occasions Juice
Del Monte Juice are celebrating the launch of the new Del Monte Occasions range this summer. Tell them what you're celebrating for a chance to win Sainsbury vouchers and cases of juice.




Free Hot or Fizzy Drink at Morrisons Cafe
Print off the voucher linked to and you can enjoy a regular hot drink or a medium fizzy drink for free when you spend £4 or more in your local Morrisons cafe. Valid until August 31st.




Free Pet Goody Bags from ASDA
To celebrate their pet event in stores, ASDA are giving away 20,000 free pet goody bags for dogs and cats including a free pouch of pet food! See the ASDA facebook page linked for details.




Free Dyson DC40 Vacuum Cleaner
Get your application in to test and keep the Dyson DC40 Vacuum Cleaner. A Dyson makes really light work of cleaning at home. Just register on the web site linked.





Free Full-Size Bottle of Lenor Unstoppable in-wash Scent
If you managed to get in on time to request a free mini 30g sample of Lenor in-wash Scent booster you can also try to get a full size bottle from SuperSavvyMe. They have 1,000 bottles to give away and all you have to do is take a 3 question survey.


Free Bag of Purina Dog Food
The Insiders are looking for dog owners in the U.K. who want to serve their pet this advanced nutrition food. Just apply on the web site linked.


Free Innocent Veg Pot
Who said there is no such thing as a free lunch? Head over to the Innocent Veg Pot of Gold web site and follow the three simple instructions. 1 Print Coupon, 2 Get Veg Pot, 3 Put in Face! Enjoy.




Free Tassimo Fidelia Coffee Machine
Product Testing have another load of incredible freebies here. Just register for your chance to test a free Tassimo Fidelia Coffee Machine and keep it.


Risk-free Trial of Weight Loss & Fat Burning Supplement
Raspberry Ketone ProSlim is a revolutionary new supplement that will help you burn fat and lose weight without strict dieting or complex exercise regimes. Take advantage of this Trial Offer and pay only for P&P. Start Burning Fat Effortlessly, Banish Cravings and Increase Metabolism.




Free Tesco Gift Cards
There are free £100 Tesco Gift Cards being given away every week on the site linked. Just enter for your chance to get one of these most useful freebies.


Free Hand Held Scanner & Gifts For Feedback
Join the Nielsen consumer panel for free and they will send you a hand-held scanner designed to read bar codes on items that you buy. In return for scanning items you buy you will earn valuable gift points, redeemable towards gifts offered in their catalogue.


Free T-Shirt from Macmillan shaveorstyle.org.uk
Want to do something for charity without spending a penny? Then commit to shaving or styling your hair by filling in a short form on the Macmillan web site and they will send you a free Shave Style T-Shirt. The last two questions on the page are optional so you don't have to fill them in.


Win a Romantic Weekend for Two in Paris
France's Number 1 Train Service SNCF are running a wonderful competition offering you the chance to win a romantic weekend in Paris for two people. Competition closes on the 15th of July so don't miss this opportunity.





Free Max Factor Gel Shine Lacquer
Gel Nail Formulations are the best thing since nail varnish. They look nicer and last longer. The SuperSavvyMe web site have got a load of free samples to give away.



Free to set up Debt Plan
iDebtPlan is a free to set up debt plan that gets you out of debt faster. It's totally private, fully online and there are no hidden charges and you could stop paying your debts as soon as today and they can help with all kinds of debts including payday loans, credit cards, overdrafts, catalogues and many more. Just fill in the simple form on the site linked.




Win Laser Eye Surgery with Optical Express
Win Laser Eye Surgery with Optical Express worth over £3,000 and you will benefit from Instant freedom from the inconvenience of wearing glasses or contact lenses, Enjoy playing sports and taking part in leisure activities more often and some many other amazing benefits. Just fill in the short form on the right of their page linked.


Free 12 Piece Dish Set with the 'Italian Flavours Selection'
If you like wine and Italian food – you'll love the new 'Italian Flavours Selection' Collection from Giordano, one of Italy's oldest and most respected producers of authentic wine and food. Get 12 bottles of wine, 6 authentic Italian food delicacies and a free 12-piece dish set.


Risk-free Trial of Beauty Labs Instant Wrinkle Reducer Serum
BeautyLab's Instant Wrinkle Reducer uses a unique blend of powerful naturally-occuring ingredients, which are designed to fight ageing by encouraging collagen production and restoring your skins natural plumpness, leaving skin feeling firm and supple. Best Kept Skin Secret have got 5,000 trial packs every day. Request your trial pack today and pay only for P&P.


55 Euromillions Lines for £1
Here is a brilliant way to increase your chances of winning the Euro Millions Lottery. You can get 55 entries for just £1! Hurry and visit the site linked.


Free George by ASDA £5 Gift Card
Complete a short survey on the site linked for your chance to bag one of the many George by ASDA £5 gift cards they are giving away.





Risk free Clear Smoke e-cigarette trial
Request a Risk free trial of ClearSmoke e-Cigarettes and discover a much more healthy and socially acceptable way to smoke. e-Cigarettes contain nicotine but no other harmful chemicals and it is legal to use in most public establishments. Just pay Post and Packaging.




Like Our facebook Page
Help spread the word about Offeroasis.co.uk by 'Liking' our facebook page. Just visit our facebook site linked to and click on the 'Like' button. Thanks for your support.