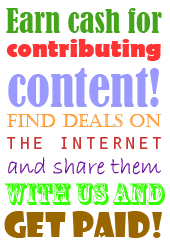 Free Mobile by Sainsbury's SIM Card
Get your Mobile by Sainsbury's SIM card completely free and you can get unlimited texts, double Nectar points and save 11p a litre on fuel!


Free Scented Candles
We recently were sent some scented candles to trial so we thought we would share this amazing promotion. Just join ASK GFK for your chance to be picked to trial some scented candles. You have to fill in the form on the site to register and confirm your email address and they will contact you if you are chosen.


Free Bourjois Beauty Products Every Day
Play the 'Memory Game' on the Bourjois facebook page linked for your chance to bag 1 of over 200 freebies they are giving away including Shine Edition Lips, 1 Seconde nail enamel, 123 Perfect CC Eye Cream, 123 Perfect CC Cream Foundation, Liner Feutre eyeliner, Dark Kohl Mascara and more.




Free Clarins Goody Bag Giveaway
Swoosh are giving away 10 amazing Clarins Beauty Baskets each worth £500. Just register on the swoosh web site inked for your chance to win one of these.


Free Recipe Folder & Heart Tape Measure
Join the FREE Heart Matters service a you will receive a free welcome pack with the latest issue of Heart Matters magazine, recipe folder and a tape measure to check if you're a healthy shape





Free Purina BETA Dog Food
Purina BETA dog food has been proven to aid digestive health in dogs by increasing the number of good bacteria in the gut. Grab this freebie now - your dog will love it.




Free Milkshake Integrity Nourishing Conditioner
Day 11 of the Glamour Magazine Milk_Shake beauty give away and they have got a load of Integrity Nourishing Conditioner's to give away. Just head over there and enter for your chance to get one.




Free Bottle of Volvic 1.5ltr
Download the CheckoutSmart iphone or android app and enter the code 'OFFEROASIS' into the box titled 'Enter A Code'. Then Refresh the offer feed to reveal the offer, Upload your Tesco, Asda, Sainsbury's, Morrisons or Waitrose receipt to earn 69p cashback. Plus there are loads of more money saving and cashback goodies to be had. It's an app well worth having on your phone.



Free Hand Held Scanner & Gifts For Feedback
Join the Nielsen consumer panel for free and they will send you a hand-held scanner designed to read bar codes on items that you buy. In return for scanning items you buy you will earn valuable gift points, redeemable towards gifts offered in their catalogue.




Win an Audi A1 Car
This is an amazing chance to win one of the most coveted motor cars on the market. Just pop a few details in the form linked to for your chance to win a brand new Audi A1 Motor Car. They are sleek, stylish, practical and cheap to run.





Free Olay Total Effects
This Mother's Day, Procter & Gamble want to thank mums for going the extra mile so they are giving away 1,000 bottles of Olay Total Effects. So treat yourself by heading over to the page linked to apply for one.




Free Shopping Voucher from ASDA
ASDA are looking for 20 people to trial their click & collect service so they are offering you the chance to get a £25 voucher to spend on their click & collect service and tell them how it went. Just apply on the ASDA web site linked to.




Home Owners - Earn up to £700 per year TAX FREE
If you are a home owner you can earn £700 per year TAX FREE with Solar panels, plus there are Government incentives that can save you 70% of the cost of installation. Just request a quote on the eCo Experts web site linked for more details.


Risk-free Trial of Beauty Labs Instant Wrinkle Reducer Serum
BeautyLab's Instant Wrinkle Reducer uses a unique blend of powerful naturally-occuring ingredients, which are designed to fight ageing by encouraging collagen production and restoring your skins natural plumpness, leaving skin feeling firm and supple. Best Kept Skin Secret have got 5,000 trial packs every day. Request your trial pack today and pay only for P&P.




Risk free Clear Smoke e-cigarette trial
Request a Risk free trial of ClearSmoke e-Cigarettes and discover a much more healthy and socially acceptable way to smoke. e-Cigarettes contain nicotine but no other harmful chemicals and it is legal to use in most public establishments. Just pay Post and Packaging.




Free Wilkinson Sword Razor
Wilkinson Sword want 250 people to test their new Hydro Power Select razors. Just fill in your details if you'd like to try this freebie!


Earn up to £12 per Survey with SurveySavvy
Heads up guys, we've just found this new survey site called SurveySavvy which offers participants the chance to take part in surveys that pay anywhere from 50p to £12 depending on the length and topic of the survey. Just register on the site and confirm your email address to start receiving surveys.




Win Laser Eye Surgery with Optical Express
Win Laser Eye Surgery with Optical Express worth over £3,000 and you will benefit from Instant freedom from the inconvenience of wearing glasses or contact lenses, Enjoy playing sports and taking part in leisure activities more often and some many other amazing benefits. Just fill in the short form on the right of their page linked.


Risk-free Trial of Weight Loss & Fat Burning Supplement
Raspberry Ketone ProSlim is a revolutionary new supplement that will help you burn fat and lose weight without strict dieting or complex exercise regimes. Take advantage of this Trial Offer and pay only for P&P. Start Burning Fat Effortlessly, Banish Cravings and Increase Metabolism.


Free 1 Day Pass at Nuffield Health Fitness & Wellbeing
Get your fitness off to a great start with a Free 1 Day Pass at one of the 50 Nuffield Health locations nationwide. Your 1 Day Pass allows you to sample the amazing fitness facilities, unwind in the sauna, or try one of the extensive range of classes entirely for free.



Free George by ASDA £5 Gift Card
Complete a short survey on the site linked for your chance to bag one of the many George by ASDA £5 gift cards they are giving away.



Free Personal Psychic Reading
Visit the Tara Medium web site and get a free personalised psychic reading based on your specific question and circumstances.


Free Stuff from Boots
Complete the form on the page linked for your chance to bag 6 months supply of Boots Skincare Products.


Bubbles Bingo Free £20 Bonus
NEW! Join Bubble Bonus Bingo - Deposit just £5 and they will top you up with an extra £20 for free - That's £25 to play with! PLUS play their Bubble Pop game for the chance to make that £35!



Free Cash Prizes for Taking Part in TV Surveys
Have you got an opinion on shows such as Master Chef, Top Gear, Match of the Day, Eastenders, Antiques Roadshow, Countryfile, Panorama and others. Then join the GFK Terrestrial TV Panel and you will be rewarded with anything from £2 to £1000 what could be better?


Free to set up Debt Plan
iDebtPlan is a free to set up debt plan that gets you out of debt faster. It's totally private, fully online and there are no hidden charges and you could stop paying your debts as soon as today and they can help with all kinds of debts including payday loans, credit cards, overdrafts, catalogues and many more. Just fill in the simple form on the site linked.


Win a Web Site Designed Especially for you with MoonFruit
Moon Fruit are offering you the chance to win a bespoke web site designed just for you and you can use the web site for whatever you want, such as a blog, photo gallery or anything you can think of, they will create it for you.


Free 80% off Travel & Package Holiday Deals
Holidays are expensive so a discount of up to 80% off should be much welcomed. Join Wowcher Go today and be the first to hear about the amazing exclusive deals on all types of holidays including beach, package, city, adventure, experience and more.





Free 80% OFF Fantastic Deals Every Day
Sign up for free on the wowcher to get discounts of up to 80% off fantastic deals every day in your area. wowcher are owned by one of the biggest newspaper/media groups in the UK so they have deals in almost every major town. These deals are really not to be missed.




Free Holiday Savings of Up To 70%
Sign up to Voyage Privee for free and be the first to hear about amazing holiday deals with up to 70% off all sorts of holidays including exotic locations that are not normally heavily discounted. It could be your chance to get a once in a lifetime holiday experience for a fraction of the normal price.




Win £3,000 Primark Vouchers
This is an incredible competition. Just signup on the site linked for your chance to win £3,000 worth of Primark vouchers. That could buy you an amazing amount of clothes from this popular store.




Like Our facebook Page
Help spread the word about Offeroasis.co.uk by 'Liking' our facebook page. Just visit our facebook site linked to and click on the 'Like' button. Thanks for your support.