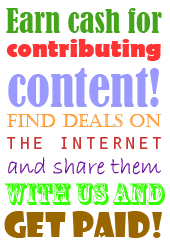 Today's Featured Freebies, Competitions & Deals




Win an iPad3 with Western Union
Western Union have got another brilliant competition to win an iPad 3. Just register on the Western Union Web site linked to be in with a chance of winning.




Home Owners - Earn up to £700 per year TAX FREE
If you are a home owner you can earn £700 per year TAX FREE with Solar panels, plus there are Government incentives that can save you 70% of the cost of installation. Just request a quote on the eCo Experts web site linked for more details.




Free Heinz Cream of Tomato Cup Soup
You know winter is on the way when soup freebies start to appear. Heinz are giving away 1,000 free Cream of Tomato Cup Soup's so enter today for your chance to get one. Offer closes on the 8th of October.




Free Handbag-size Tub of Nivea Soft Moisturising Cream
Sign up for the NIVEA newsletter and they will treat you to a super-soothing gift: a handbag-size NIVEA Soft. You will also be the first to hear about exclusive freebies, product launches, offers, competitions and skin care advice. I Love it!




Free Nivea Men Pocket-size Mini Moisturiser
Get ahead of the game. Sign up to the NIVEA MEN newsletter and they will send you a skinful of grooming tips, product news and exclusive offers, for you to read before anyone else. Plus, they will also throw in a pocket-size mini moisturiser to welcome you to the club.



Free Macbook Air
WOWSER! Opportunities like this don't come around very often. Just register on the web site linked for your chance to product Test A Macbook Air To Review and Keep For Free! They have a load of them to give away.




Free Smarties Pumpkin and Milkybar Ghost
I would happily be spooked by these lovely chocolate treats this Halloween. Love Brands have got 400 sets of Smarties Pumpkin and Milkybar Ghost chocolates to give away on their facebook page linked.




Free Dora The Explorer Activity Pack
Join Dora's Fan Club for free and the first 10,000 people will receive a free exclusive Dora and Friends Welcome Pack with goodies for your children.





Free O.P.I Gwen Stefani Nail Polish
There are loads of free bottles of O.P.I Gwen Stefani Rock Starlets Mini Collection Nail Varnish up for grabs on the web site linked. Plus 10 people will win an entire O.P.I Gwen Stefani Rock Starlets Mini Collection gift set.




Free £5 off £15 Spend at WHSmith Voucher
If you have a Visa contactless card the you could take advantage of this freebie in partnership with WHSmith. Just print off the voucher on the Visa web site linked to get £5 off books, cards and stationery when you touch and pay with Visa contactless at WHSmith when you spend £15 or more until 5th of October.




Free Yorkshire Gold Tea Bag
If you have a My Waitrose card, stop by your local Waitrose and pick up a copy of October's Waitrose Kitchen magazine and on page 31 you will find a free Yorkshire Gold Tea Bag. While you're there you can also get a free cup of tea or coffee.


Win a Computerised Sewing Machine from Brother
If you're handy with a needle and thread, why not upgrade your equipment by entering this competition on the Brother facebook page linked for your chance to win a Brother Innov-is 20LE Computerised Sewing Machine.




Free Premier Care Bathroom Brochures
Premier Care make easy-access showers and walk-in baths help make bathing simpler, safer and more pleasurable. If you would like to find out more then just request a free full colour brochure on their web site.




Free iPad Air
Bestbuymoney have teamed with Hotels.com to give you the chance to get a free iPad Air. Just register and complete a short survey.


Free £150 TK Maxx Voucher
Enter this promotion from Winnersville for your chance to get a free £150 TK Maxx voucher. I love TK Maxx, with a little effort you can find some amazing on the cheap. £150 could go a long way.




Win £250 of Callum James Jewellery
Callum James Jewellery are changing their trademark logo and want your opinion on which one of 4 samples look better. Just vote for your favourite one for your chance to win £250 worth of Jewellery. See the facebook page linked.




Free Samsung Galaxy Tablets & Wine from Channel 4
Awesome freebies here from Channel 4. They have 100 fantastic freebies, including 50 Samsung Galaxy Tab 4 7' Wifi 16 GB and 50 cases of delicious Nederburg wine up for grabs. See the C4 web site linked to enter.




Free Surcare Super Concentrated Laundry Liquid
If you suffer from skin problems and you're looking for clean clothes without using harsh chemicals then you should pick up a free sample of Surcare Super Concentrated Laundry Liquid. TalkHealth have got 300 of these up for grabs.


Free Boots Gift cards for Taking Part in TV Surveys
Have you got an opinion on shows such as The Bake Off, The Voice, Strictly Come Dancing, Top Gear, Match of the Day, Eastenders, Antiques Roadshow, Countryfile, Panorama and others. Then join the GFK Terrestrial TV Panel and you will be rewarded with Boots Vouchers for taking part in online panels.




Free Samsung 3D HD Smart Curved LED TV
Register on the web site linked for your chance to become a technology testers to rate and review the Samsung 48 inch 3D HD Smart Curved LED TV, and the best bit is you get to keep it!


Go Sober For October
Macmillan are getting people to go sober for October for cancer support charity. To join the charity all you have to do is pledge that you will not drink for the whole of October 2014 and they will send you free for tips and information for how to cut down on your drinking.




Free Discount Deals from Bespoke Offers from Barclays
If you like going out and saving money Bespoke Offers from Barclays is a must see because they have some of the most amazing exclusive deals on spas, restaurants, cinema, electronics, homeware, kitchenware and loads loads more. Discount can be as high as 70% off. Just enter a few details to see today's daily deals.


Risk-free Trial of Weight Loss & Fat Burning Supplement
Raspberry Ketone ProSlim is a revolutionary new supplement that will help you burn fat and lose weight without strict dieting or complex exercise regimes. Take advantage of this Trial Offer and pay only for P&P. Start Burning Fat Effortlessly, Banish Cravings and Increase Metabolism.



Free Dyson DC40 Vacuum Cleaner
Get your application in to test and keep the Dyson DC40 Vacuum Cleaner. A Dyson makes really light work of cleaning at home. Just register on the web site linked.


Free Clarins Goody Bag Giveaway
Swoosh are giving away 10 amazing Clarins Beauty Baskets each worth £500. Just register on the swoosh web site inked for your chance to win one of these.




Free Tesco Gift Cards
There are free £100 Tesco Gift Cards being given away every week on the site linked. Just enter for your chance to get one of these most useful freebies.


Free to set up Debt Plan
iDebtPlan is a free to set up debt plan that gets you out of debt faster. It's totally private, fully online and there are no hidden charges and you could stop paying your debts as soon as today and they can help with all kinds of debts including payday loans, credit cards, overdrafts, catalogues and many more. Just fill in the simple form on the site linked.




Win Laser Eye Surgery with Optical Express
Win Laser Eye Surgery with Optical Express worth over £3,000 and you will benefit from Instant freedom from the inconvenience of wearing glasses or contact lenses, Enjoy playing sports and taking part in leisure activities more often and some many other amazing benefits. Just fill in the short form on the right of their page linked.


Risk-free Trial of Beauty Labs Instant Wrinkle Reducer Serum
BeautyLab's Instant Wrinkle Reducer uses a unique blend of powerful naturally-occuring ingredients, which are designed to fight ageing by encouraging collagen production and restoring your skins natural plumpness, leaving skin feeling firm and supple. Best Kept Skin Secret have got 5,000 trial packs every day. Request your trial pack today and pay only for P&P.


Free George by ASDA £5 Gift Card
Complete a short survey on the site linked for your chance to bag one of the many George by ASDA £5 gift cards they are giving away.





Risk free Clear Smoke e-cigarette trial
Request a Risk free trial of ClearSmoke e-Cigarettes and discover a much more healthy and socially acceptable way to smoke. e-Cigarettes contain nicotine but no other harmful chemicals and it is legal to use in most public establishments. Just pay Post and Packaging.




Like Our facebook Page
Help spread the word about Offeroasis.co.uk by 'Liking' our facebook page. Just visit our facebook site linked to and click on the 'Like' button. Thanks for your support.