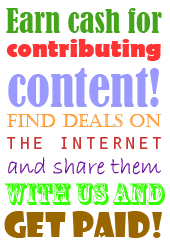 Today's Featured Freebies, Competitions & Deals



Free Children's Den Builder's Kit
Get involved in Save the Children's Den Day by signing up on the Save the Children web site and they'll send you a Den Builder's Kit, packed with ideas to help your budding builders design their dream den and raise money.


Free Solar Panels For Your Home
A Shade Greener are a BBC recommended, government initiated scheme that are giving away free solar panels and installation, worth up to £14,000. If eligible you could save yourself a fortune in energy bills.


£5 Free Cash when you Join NewVista
This place is incredible! You get 500 points (that's £5) just for registering an account. Then they send you regular surveys that pay between 50 and 200 points, (100 points = £1), so the cash rewards quickly build up! I have already received 3 surveys since registering last week.


Free Tea India Deevna Chocolate
Tea India are giving 10 people the chance to bag a free 10 cookbook, along with a box of their signature chocolates and Tea India Masala Chai.




Free Sunflower Seeds from BBC Gardeners World
BBC Gardeners World have teamed with some of the country's biggest retailers of garden seeds to offer you some free sees to get planting in your garden. Among others there are 1,000 free Sunflower seeds to claim but hurry because it's first come first serve.




Free Revlon Nail Polish
This the month Expert Home Tips web site are giving 30 people the chance to get a fantastic Revlon Nail Polish in a range of different colours.


Free Bottles of Viakal Limescale Remover
SuperSavvyCircle have launched another project, this time they are looking for 1,000 people to trial Viakal limescale remover. Apply now for your chance to get 2x Viakal Original 500ml spray.


Free Johnson & Johnson Printable Coupons
Register on our CARING EVERYDAY website from Johnson & Johnson and get access to loads of coupons offering really good discounts on products from their range. Plus you wil be entered into a competition to win a year's supply of Baby Wipes.


BACK ON! Free Birdseye Fish Fingers Vouchers
Register on the web site linked and you will earn high street shopping vouchers including Birdeye Fish Fingers plus you may even be asked to try products out at home and keep them afterwards. Just signup on the site linked to start taking part in paid surveys.


Free M&S Vouchers
Sign up to Your Word and start taking free online surveys with them and get paid in high street vouchers for taking them. They send surveys every day and reward you for taking each one.


Free Sample of 3D Lifting & Filler Cream
3D Lifting cream became the fastest-selling face cream in Sweden and now they want to share the love in the UK so they are giving away free samples. Follow instructions on the web site linked to get a sample for yourself and find out what all the hype is about.



Free Lego Magazine
Kids will just love this. The FREE LEGO Club Magazine is full of comic adventures, games and puzzles, building challenges and Cool Creations built by LEGO fans!


Daily Paid Surveys & Instant £2.50 for Joining
One Poll is the world's fastest growing online market research company. They send their members Daily Paid Surveys and if you register today they will add £2.50 to your account instantly. You have to confirm your email address to get your £2.50 and see the 12 top paid surveys which you can take right away.




Free Aussie Shower Body Wash
Claim your free sample bottle of the all new Aussie Shower Body Wash on the web site linked. There are 1,000 to be claimed.


Free Olay Total Effects Day Moisturiser
Total Effects Multi-Vitamin Complex: VitaNiacin, is proven to improve all seven signs of ageing for younger, healthier, more radiant looking skin. There are 150 bottles up for grabs on the web site linked.


Free Spanish Tapas Food Hamper
Thirst Pocket Kitchen Towels are celebrating being part of the Ideal Home show this year and are offering you the chance to win one of 100 fabulous Tapas hampers. These hampers are packed full of delicious treats and culinary delights. No purchase necessary - just complete the form.



Free Nature Valley Peanut Butter & Chocolate Bar
You can send a hungry friend a free Nature Valley protein bar and all you need to do is fill in the form linked, don't worry if you don't know their address, and they'll be able to claim a free bar. Ask them to send you one back, this offer will continue until stocks run out.



Free Sample of Always Discreet
SavvyCircle are looking for 1,000s of people to trial Always Discreet liners and pads. Just register for the panel and if selected you will receive one full-size pack of Small Pads, one full-size pack of Pads+ Long, £1 off vouchers for any Always Discreet liners or pads and £2.50 off vouchers for Always Discreet pants.





Free Acai Berry Tablets
These tablets are high in anti-oxidants to help you cleanse your body. Rich in B-Complex Vitamins, Vitamin K & Niacin, a great source of fibre & a good source of healthy omega 3, 6 & 9 oils. You can get a free 10 day supply on the web site linked.



JustFab Shoe Wardrobe - 2 Styles From £35
If you love Shoes you will love JustFab. They have 100s of exclusive styles and amazing prices, including a deal to get 2 styles for £35. Just take their short survey about styles of shoes you adore and then register to see the collection they have chosen for you.


Free Stress Ball & £3 per Survey
We recently registered on this paid survey site and have had 6 paid surveys already and earned £18 so far paid in our paypal account. Plus they recently sent us a free stress ball to squash while taking surveys. Well worth registering.


Free Pack of Pampers Baby Wipes
Even if you don't have a bun in the oven or a little bundle of joy bouncing about the house already these are still a handy thing to carry in your handbag! There are 1,000 free packs up for grabs.


Free £5 Foxy Bingo Cash - No Deposit Required!
Foxy Bingo is the UK's favourite bingo brand and they are giving away £5 free bingo cash to new members. Just register and start playing with your free cash and keep your winnings. Also if you deposit £10 they will give you £50. This is an amazing offer that won't last long so dive in..


Risk-free Trial of Beauty Labs Instant Wrinkle Reducer Serum
BeautyLab's Instant Wrinkle Reducer uses a unique blend of powerful naturally-occuring ingredients, which are designed to fight ageing by encouraging collagen production and restoring your skins natural plumpness, leaving skin feeling firm and supple. Best Kept Skin Secret have got 5,000 trial packs every day. Request your trial pack today and pay only for P&P.


Risk-free Trial of Weight Loss & Fat Burning Supplement
Raspberry Ketone ProSlim is a revolutionary new supplement that will help you burn fat and lose weight without strict dieting or complex exercise regimes. Take advantage of this Trial Offer and pay only for P&P. Start Burning Fat Effortlessly, Banish Cravings and Increase Metabolism.


Earn up to £700 per year TAX FREE
eCo Experts can help you earn £700 per year TAX FREE with Solar panels and what's more there is a Government backed incentive to financially assit people to install solar panels in their homes and you could qualify. Just enter your details on the eCo Experts web site linked to find out more.



Free Discount Deals from Bespoke Offers from Barclays
If you like going out and saving money Bespoke Offers from Barclays is a must see because they have some of the most amazing exclusive deals on spas, restaurants, cinema, electronics, homeware, kitchenware and loads loads more. Discount can be as high as 70% off. Just enter a few details to see today's daily deals.


Free Cuddly Cow Toy & Pregnancy Diary
If you have a newborn or are expecting then you can register on the Cow&Gate C&G Baby Club web site for great tips, advice and offers, plus get your FREE cuddly cow and more!!




Like Our facebook Page
Help spread the word about Offeroasis.co.uk by 'Liking' our facebook page. Just visit our facebook site linked to and click on the 'Like' button. Thanks for your support.









































3 Knickers for £9


Great value this. Get any 3 pairs of knickers for just £9 and they look really...