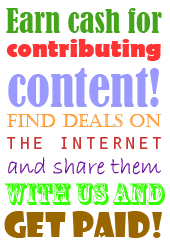 Today's Featured Freebies, Competitions & Deals
It's about time - Happy Friday!

Free Dyson V6 Absolute
If you don't like doing the hoovering then you're not alone but it's got to be done so here is a sweetener. The web site linked are giving away free Dyson V6 Absolute's to test and keep. These mean machines made in Britain will make easy work of your housework. Apply to get one today!


100 Free Spins on Iron Man
This is an exclusive new slots game from Ladbrokes and it's bags of fun with a massive jackpot. Just register on the Ladbrokes web site to get 10 free spins of the new Iron Man slots game and if you make a deposit to claim up to 100 free spins. I won cash on my first 3 free spins.


Free £40 Bingo Cash & 150 Spins
This is one of the most generous Bingo freebies we've come across in a while. Just open an account on the Butler's Bingo web site and deposit £10 and they will give you an extra £40 instantly. Plus you also get 150 free spins on their Rabbit in the Hat game. With all that it shouldn't be too difficult to win some cash.


Free UV Patch from La Roche-Posay
The sun is out at last but too much of a good thing can be bad so you need to keep a check on your exposure. With this free UV Patch from La Roche-Possay you can monitor how much the sun is affecting your skin. Simply register on their mailing list and they will send you one.




Free CardioFlex Tea
Innotech have two amazing free tea samples for you at the moment - CardioFlex Q10 or Wholy Tea Total Body Detox Tea. Apply for your free sample of both of these, which include a 4 day Trial of Wholy Tea and CardioFlex is a 1 x 10 gram serving.




Free Book - Romeo and Juliet by William Shakespeare
The Telegraph has teamed up with the Kenneth Branagh Theatre Company, in celebration of it's first season of plays at the Garrick Theatre, London to offer readers a free copy of Romeo and Juliet by William Shakespeare, in this remarkable 400th celebratory year. To claim just buy a copy of the Telegraph this Sunday May 8th and take the voucher inside to your nearest Tesco Express.


£45 worth of Shopping Vouchers for Joining Digital Trends Panel
Join the Digital Trends Panel today and they will give you £15 just for registering and then a further £30 for taking surveys about technology devices, brands and advertising you encounter in your daily life. Its a really easy way to make some spare cash.




£500 LEGO Giveaway
If you like Lego this is a brilliant promotion. You can enter for your chance to win £5000 worth of LEGO plus a trip to Lego Land.


Free OralB Pro 3000 Electric Toothbrush
You only get one set of teeth so treat them well. Enter on the web site linked for your chance to be get one of these OralB Pro 3000 Electric Toothbrushes.


Free Mr Muscle Drain Gel
Nice and easy money-back guarantee here from Mr Muscle! If you're not entirely happy with Mr Muscle Kitchen and Bathroom Drain Gel they will refund the money you paid.




Free Copy of NME Magazine
Music lovers don't have to spend a fortune on a glossy magazine full of interesting articles. Just tap your postcode into the form on the NME web site linked to find your nearest outlet where you can pick up a free copy.




Free Soft Toys from Weetabix
Get creative with a humble biscuit of Weetabix and you could get 1 of 300 Weetabuddy Soft Toys up for grabs from Weetabix. See their page linked for details.


Win a £3,000 Shopping Spree in Primark
Imagine how good it would be to spend £3,000 in Primark. You could have a new wardrobe for every week of the year. Enter on the web site linked for your chance to win a £3,000 shopping spree in Primark one of the most loved fashion stores in the country.


Free McDonalds Gift Card
Pop a few details in the form on the web site linked for your chance to get one of the £100 McDonalds Gift cards they are giving away. Remember, this is fast food so hurry!


Free Samsung Smart TV
We've had SmartPhones and now everyone is going to want a Smart TV. On the web site linked they are looking for people to test and keep Samsung's attest Smart TV. Applying is quick, easy and free so head over there before all the places are gone!


Free High Street Vouchers for Walking
Bounts was founded in 2011 by a team that says its mission is to help motivate people to exercise at least once a day, and is supported by Oxford University. Just download the app to your smartphone and you will earn points for every 7,000 steps, 20 mins of walking and even gym visits all count as activities. once you've amassed enough points, these can be converted into vouchers to be used at retailers and restaurants such as Amazon, John Lewis, Sainsbury's, Pizza Express, M&S and Cineworld. Brilliant stuff.


amazon Money off Coupons
Before you buy anything on amazon be sure to check the coupons page linked. They have 100s of money off coupons that can slash the price of popular products by as much as 50%. If you don't shop on amazon we would like to know what it's like living on Mars.




Free 'Place In The Sun Tickets' London Olympia
If you have a dream to own a holiday home, A Place in the Sun Live is where you want to start your search. The event is taking place this weekend from 6th - 8th of May at London Olympia and Early Bird tickets are free with the code LON1.


Free Gourmet Society Discount Dining Card
One of these cards will entitle you to tuck in to discounts at 1000s of restaurants across the UK, as well as enjoying money off cinema tickets, days out and hotel stays. At the moment you can get a 30 day free trial so you can see - or taste rather how good they are.




Win a FIAT 500
Want to win a charming recreation of a much-loved classic, the Fiat 500 Lounge, absolutely free in this latest competition. With all modern amenities and top-level safety features, this unashamedly retro run-around is not only a lot of fun to drive but also economical and full of character.




Win a Weekend in Mallorca
Whether you've got your summer holiday sorted or not you don't want t miss the chance to have an all expenses paid weekend break in sunny Mallorca. Pop a few details in the form on the page linked and you could be jetting off with a friend for a relaxing weekend on this sunny Balearic island.




Free Wild Blueberry & Lime Bulmers
Summer is finally here and at Pitcher & Piano they want to celebrate that by giving you a lovely free bottle of Bulmers Wild Blueberry & Lime Cider. Just register on their web site and they will send you the free voucher.




Win a Picnic Backpack
This month to celebrate British Sandwich Week British Turkey are giving you the chance to win another great prize - a Picnic Backpack containing everything you need to enjoy a slap up meal in the great outdoors.




Daily British Isles Cruise Giveaway
Simply click on the map on the facebook page linked to enter 'Voyages to Antiquity' daily competition for your chance to win a cruise around the British Isles.


Win a Broil King BBQ worth over £1,100
If you fancied yourself as a barbecue king or queen we believe you but even the best barbecue king needs the right tools for the job. Enter this competition from Great British Chefs for your chance to win a Broil King BBQ worth over £1,100 and take your barbecue skills stratospheric.




Win a £100 Marks & Spencer Gift Card
There is a £100 Marks & Spencer Gift Card up for grabs on the web site linked. Just pop a few details in the form and you could be letting loose in Britain's favourite store.


Free Rewards for Supermarket Receipts - Android Users
If you have an Android phone you can get a load of freebies by simply taking pictures of your supermarket receipts and uploading them. Just download the app and start earning points which you redeem for all sorts of free stuff! It's easy money!


Win £1,000 Cash & Save Money on your Mobile
To celebrate the launch of Great Mobile Offers they are giving one lucky visitor to the site the chance to win £1000 in cash. All you have to do to be in the draw is complete our short and sweet Mobile Money Saving Review to discover how much money you can save on the handsets you want.




Free MAC Beauty Products
On the web site linked they are looking to recruit more product testers to test some MAC cosmetics! Just register for the panel and you could be selected to try out anything from lipsticks and mascaras, eyeliners, cleansers and more. It's a brilliant way to get some free top quality makeup.





Win £500 to Spend in Supermarket of your Choice
How would you like £500 to spend in the Supermarket of your choice? Well just pop a few details in the form on the page linked and you could soon find out how good it feels to get so much free food.




Free Nutribullet Blender
These Nutribullet Blenders are all the rage at the moment and are hailed for sqeezing every last drop of nurtients from whatever you put in them and blitz. It's a tasty way to get your five a day. Apply to be a tester and one of these could be yours for free.


Free iPhone 6
Worth over £500 the iPhone 6 is the very latest mobile phone from Apple and it's full of amazing functionality along with all the stylish lines you would expect from apple products. One of these could be yours for free when you register to become a tester on the web site linked. They have a bundle to give away over the next few weeks.


Free £2 Starbucks Voucher for Taking TV Surveys
Head over to the web site linked, register and confirm your email to take part in a survey for the UK's biggest Terrestrial TV companies and they will reward you with High Street shopping vouchers of your choice including a Starbucks Coffee and Cake.


Green Panthera Paid Surveys - £3 for Joining
This is a pretty good paid surevy web site. I registered a few days ago and was instantly awarded £3 for joining. Since then I have been sent a paid survey which earned me a further £1.50 so i'm starting to build up some decent money. Register today to get some unique paid surveys.




Win a £1,000 Ikea Voucher
Imagine how you could deck out your home with £1,000 to spend at Ikea. Ok stop imagining and make it happen by entering a few details on the page linked for your chance to win this incredible freebie.




Free Cinema Tickets, Popcorn and Drink
Love Film? Then apply to become a Film Reviewer and you could enjoy a FREE night out for two to see a film of your choice. Plus they will also throw in some popcorn and a drink. Sounds like a nice gig to me.




Win a 55-inch Samsung TV
Upgrade your home visual entertainment by entering this competition for the chance to win a stunning new 55-inch Samsung TV.




Like Our facebook Page
Help spread the word about Offeroasis.co.uk by 'Liking' our facebook page. Just visit our facebook site linked to and click on the 'Like' button. Thanks for your support.