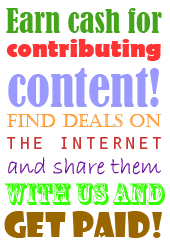 Today's Featured Freebies, Competitions & Deals

Free Crocodile Pattern Narrow Belt
Subscribe to the Marina Rinaldi Fashion Alerts Mailing List and benefit from a range of free persoanlised services, style advise, collection previews and bets of all 100 people will be chosen at random to receive a free Crocodile Pattern Narrow Belt.



Win a Year's Supply of JOHNSON'S® Baby wipes
Register at caringeveryday.co.uk today and a get a chance to win a year's supply of JOHNSON'S® Baby wipes. They pick a new winner, every month. Plus you can print off money off coupons for other Johnson's & Johnson's products.


Free Clarins Samples & Beauty Bag
Get ready for the party season with this amazing freebie from Clarins. Just register for their newsletter for a free gift of 3 Free samples, beauty bag, special offers and reward points. Hurry though because there are a limited number of freebies up for grabs.




Free Plum Sauce by Lee Kum Kee
Lee Kum Kee have reloaded their 'Cook N' Tell' facebook promotion with 500 jars of delicious plum sauce. It's another one of those ingredients that make Chinese food taste so good. Just participate for your chance to get a jar.


Free Breakfast at IKEA
IKEA are giving their IKEA FAMILY members a free English breakfast (6 items) max 2 breakfasts per member on 26th December and 1st January. Simply print the linked voucher, if you are not a IKEA FAMILY member you can join for free.


Free Cadbury Twirl Chocolate Bars
This is an awesome MASSIVE giveaway from Cadbury. There are 1,000,000 - YES ONE MILLION Instant win Chocolate bars in the Cadbury Win a Banger promotion. Chocolates include Wispa, Wispa Gold, Boost, Double Decker, Starbar and Twirl. You can enter twice a day so your chances are high! Enjoy your free chocolate.


Free Samsonite Luggage, Altus Backpacks, Personalised Magnet
LAN & TAM South America's biggest airlines have teamed up to give away a load of freebies including Samsung Tablets, Go Pro White Camcorders, Samsonite Luggage Sets, Altus Backpacks, Samsonite Travel Bags, Personalised Magnets and flights to South America.




Free Samsung 3D HD Smart Curved LED TV
Register on the web site linked for your chance to become a technology testers to rate and review the Samsung 48 inch 3D HD Smart Curved LED TV, and the best bit is you get to keep it!


Free iPad Air
Bestbuymoney and Hotels.com are giving you the chance to get a free iPad Air. Just register for your chance to get one.




Free Ted Baker Handbags, Samsung TVs from Very.co.uk
The 'Tap & match' game on the Very.co.uk web site is brilliant. There are loads of amazing prizes to be won including things like a Ted Baker Handbag, Samsung TVs, iPad Air's and loads more. Just match three gifts for your chance to win it.




Free Kids' Bike Bell from Halfords
Another awesome freebie for O2 Priority members. Just load up your app to see the free Kids' Bike Bell from Halfords offer. Brilliant stocking filler. If you don't have O2 then head over to the site linked and request a free SIM, load it on a phone and download Priority Moments. It's well worth it.




Free Pairs of Churchill Slippers
Oh Yes! Win a couple of comfy money-can't-buy Churchill slippers for you and a friend. To enter simply tag a friend who would look great in a pair in the comments on facebook and you could both be slipping your paws into some before you know it! Hurry though, Churchill's only got 250 pairs to give away.


Free Lacoste Live Men's Fragrance
There are 60,000 free samples of Lacoste Live fragrance on the SuperSavvyMe web site linked. Apply and you could have a nice little stocking filler in time for Christmas.




Free Oral-B Pro 6000 SmartSeries Electric Toothbrushes
To encourage efficient brushing habits, Oral-B has introduced the world's 1st Bluetooth connected electric toothbrush and SuperSavvyMe have 30 of them to give away for free. Each of these are worth £229 so don't delay to enter today!


Risk-free Trial of Beauty Labs Instant Wrinkle Reducer Serum
BeautyLab's Instant Wrinkle Reducer uses a unique blend of powerful naturally-occuring ingredients, which are designed to fight ageing by encouraging collagen production and restoring your skins natural plumpness, leaving skin feeling firm and supple. Best Kept Skin Secret have got 5,000 trial packs every day. Request your trial pack today and pay only for P&P.


Free Jack Daniels Winter Jack Mug
I've had lots of freebies from Jack Daniels so was well chuffed when I found this one. They are giving away 2,010 Winter Jack Mugs, just perfect for sipping a heart-warming apple whisky punch, or a mulled wine if your prefer.




Win an Options Hot Chocolate Hamper
Like the Options Hot Chocolate Facebook Post to win £75 of FigLeaves.com vouchers to buy your very own Christmas stockings, the Red Hot Calendar 2015, a Soap and Glory Think Pamper Gift Set AND Options Hot Chocolate hamper to share. Incredible!



Free Macbook Air
WOWSER! Opportunities like this don't come around very often. Just register on the web site linked for your chance to product Test A Macbook Air To Review and Keep For Free! They have a load of them to give away.




Home Owners - Earn up to £700 per year TAX FREE
If you are a home owner you can earn £700 per year TAX FREE with Solar panels, plus there are Government incentives that can save you 70% of the cost of installation. Just request a quote on the eCo Experts web site linked for more details.


Free Starbucks Voucher
Real easy freebie here. Just give your opinion on TV shows you love or hate and earn vouchers which you can redeem at places such as Starbucks, Boots, Costa Coffee, Amazon and B&Q. Voucher values range from £2 to £1,000 so you could get anything from a cup of coffee to a state of the art coffee machine.


Free BBC Empire of the World Poster
Follow the instructions on the Open University web site linked to get your free map wallchart showing the British Empire and how it attempted to adapt to a changing world.


Free Limescale Water Test Strip
Knowing whether you live in a hard water area could save you loads of money on appliances and it's really easy to find out. Just request a free testing kit from the Calgon web site linked.


Free Sample of SYLK Intimate Moisturiser
Sylk Intimate Moisturiser for ladies complements your own natural lubrication and is safe to use everyday. They are giving away free sachets at the moment so if you want to try this just enter your details on their page linked and allow 10 days for delivery.


Free Timeout Discount Vouchers
Enter this exclusive competition from TimeOut for your chance to win a year of free film previews, specially curated events and discounts and savings across London. Plus 100 runners-up prizes of discount vouchers. If you live in and around London or often visit you don't want to miss this.


Risk-Free Trial of Total White Teeth Whitening Kit
Want visibly whiter teeth in just 7 days? Then try a risk-free trial of Total White teeth whitening. The Total White Teeth Whitening System contains everything you need to achieve a sparkling white smile. You can keep track of your progress with our complimentary shade guide. Request your free trial pack - just pay postage.





Free Gold Coins with O2 Priority Moments
At the moment O2 Priority members can get free 60g packs of Gold Milk Chocolate Coins at WHSmith. Offer available until mid December. Just load up the O2 Priority App on your phone. If you're not on O2 then get on it with a free PAYG SIM from the web site linked.



Free 12 Piece Dish Set with the 'Italian Table Selection'
If you love the finer things in life – but don't like to pay over the odds – you'll love the new 'Italian Table Selection' Collection from Giordano, one of Italy's oldest and most respected producers of authentic wine and food. Get 12 bottles of wine, 6 authentic Italian food delicacies and a free 12-piece dish set.


Free Babyliss Pro Curler
Get curls to rival the Duchess of Cambridge Kate Middleton with the Babyliss Pro Curler. Register to become a product tester and one could be winging it's way to you.


Risk-free Trial of Weight Loss & Fat Burning Supplement
Raspberry Ketone ProSlim is a revolutionary new supplement that will help you burn fat and lose weight without strict dieting or complex exercise regimes. Take advantage of this Trial Offer and pay only for P&P. Start Burning Fat Effortlessly, Banish Cravings and Increase Metabolism.




Risk free Clear Smoke e-cigarette trial
Request a Risk free trial of ClearSmoke e-Cigarettes and discover a much more healthy and socially acceptable way to smoke. e-Cigarettes contain nicotine but no other harmful chemicals and it is legal to use in most public establishments. Just pay Post and Packaging.


Free Dyson DC40 Vacuum Cleaner
Get your application in to test and keep the Dyson DC40 Vacuum Cleaner. A Dyson makes really light work of cleaning at home. Just register on the web site linked.


Free to set up Debt Plan
iDebtPlan is a free to set up debt plan that gets you out of debt faster. It's totally private, fully online and there are no hidden charges and you could stop paying your debts as soon as today and they can help with all kinds of debts including payday loans, credit cards, overdrafts, catalogues and many more. Just fill in the simple form on the site linked.




Like Our facebook Page
Help spread the word about Offeroasis.co.uk by 'Liking' our facebook page. Just visit our facebook site linked to and click on the 'Like' button. Thanks for your support.