(4)
(6)
(2)
(1)
(4)
(7)
(1)
(4)
(5)
(8)
(1)
(6)
(8)
(3)
(7)
(6)
(1)
(2)
(6)
(3)
(3)
(6)
(12)
(3)
(3)
(3)
(2)
(1)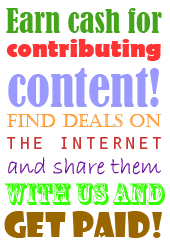 Showing offers 1 to 10 of 118

Amazon Fire Stick for £32.99

| Category: Electrical
If you've had it with terrestrial TV and want more variety this Christmas, then you need the amazon Fire TV Stick. It connects your HDTV to a world of online entertainment and you don't have to be an amazon prime member to enjoy a huge selection of movies and TV episodes.
More Info - Hits: 211 - Votes: 0


Bosch Tassimo Vivy Hot Drinks and Coffee Machine Just £33

| Category: Electrical
This is an incredible offer from amazon.co.uk. This Bosch Tassimo Vivy Hot Drinks and Coffee Machine has been reduced from £99 to just £33. That's just £33 for a top quality coffee machine. There have been over 1,000 reviews of this product with an average rating of 4.5. 1,000 people can't be wrong.
More Info - Hits: 79 - Votes: 0




20% off FlyBe Flights

| Category: Holidays & Travel
Flybe know you like savings, so they are offering 20% off all Flybe routes within, to and from the UK. All you have to do is book between Thursday 4th December and Thursday 12th December for travel from Thursday 4th December and 28th March 2015. You need to move fast to secure this awesome discount.
More Info - Hits: 299 - Votes: 1


The North Face 50% off Sale

| Category: Fashion
Hate to say it but winter will soon be here again so this 50% off sale from The North Face may be something you want to have a look at. Stuff is going fast so hurry if you don't want to miss the best bits.
More Info - Hits: 1233 - Votes: 7


£9 BP Car Wash for just 50p

| Category: Automobiles
BP have got some incredible offers on at the moment. The pick of the bunch is the £9 car wash for just 50p. Other deals include 50p for a cup of Wild Bean coffee and 10p for a pack of Wrigleys Chewing gum. You can either print off a voucher for any of the offers or download it to your mobile and present to them instore. Valid until 8th of July 2013.
More Info - Hits: 1812 - Votes: 9


£50 H.Samuel Gift Card for £37.50

| Category: Shopping
Bespoke Offers is Barclaycard's promotions web site and at the moment they have a brill offer up for grabs. They are selling a £50 H. Samuel Gift Card for just £37.50. So if you are thinking about treating a loved one and just can't decide what to get them, this could be your answer.
More Info - Hits: 589 - Votes: 2


PS Vita £99.99 plus Free P&P at Game

| Category: Electrical
At the moment you can pick up a pre-owned PS Vita for just £99 at Game. Plus if you use the Discount Code 'CLOUDJUN13' you will get £5 off a £50 spend. This is only available while stocks last so hurry if you don't want to miss this brilliant deal.
More Info - Hits: 450 - Votes: 1




Filippo Berio 500ml Bottle of olive oil for 99p

| Category: Food & Drink
From Now until June 2nd 2013 Morrisons have 500ml bottles of Filippo Berlo Gusto Frutato Olive Oil on sale for half price, just £1.99. If you print off the coupon linked to that will bring the price down to 99p. Amazing price for a big bottle of Olive Oil.
More Info - Hits: 1481 - Votes: 4



Like us on facebook for another way to stay in the loop and never miss a freebie, competition or amazing deal.