(4)
(6)
(2)
(1)
(4)
(6)
(1)
(5)
(7)
(14)
(1)
(6)
(10)
(4)
(9)
(6)
(1)
(2)
(6)
(3)
(3)
(6)
(13)
(4)
(3)
(3)
(2)
(1)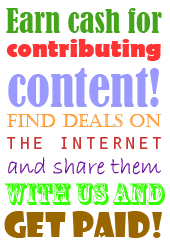 Showing offers 1 to 10 of 133

Borrow up to £25,000 Today

| Category: Money & Finance
Epic Loans specialise in providing personal unsecured loans of up to £25,000. It doesn't matter what your credit history is, they will look at all comers and do their very best to help you with your query. Just complete a few form fields on the next page to apply for a loan.
More Info - Hits: 146 - Votes: 0






Amazon Prime Day Deals

| Category: Home & Garden
Today July 10th from 6pm onwards is Amazon Prime Day - 30 hours of unmissable deals to be had and a great chance to get that product you've been eyeing up for the past few weeks or months. Head over to the page linked and sign up for Prime so you can take advantage of all the deals on offer.
More Info - Hits: 72 - Votes: 0


SALE! Virgin Train Tickets from just £5

| Category: Holidays & Travel
This is a DEAL if I've ever seen one. The Virgin Trains sale is now on and you can score tickets to far-flung UK destinations, such as London to Birmingham, Manchester and Scotland form just £5 and there are MILLIONS up for grabs. All tickets are valid for travel between Friday 21 July and Friday 8 December so no rush to use them.
More Info - Hits: 72 - Votes: 0






£10 off £25 Spend at The Body Shop

| Category: Health & Beauty
Hey! It's Mother's Day soon (March 26th) so thought this special offer from The Body Shop would be of interest. At the moment you can get £10 off a £25 spend when you use the code 19805 at the checkout. Valid until 13th March 2017
More Info - Hits: 46 - Votes: 0







Like us on facebook for another way to stay in the loop and never miss a freebie, competition or amazing deal.