(4)
(6)
(2)
(1)
(4)
(6)
(1)
(5)
(6)
(14)
(1)
(6)
(9)
(4)
(9)
(6)
(1)
(2)
(6)
(3)
(3)
(7)
(12)
(4)
(3)
(3)
(2)
(1)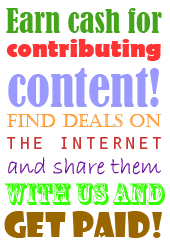 Showing offers 1 to 10 of 131

Amazon Prime Day Deals

| Category: Home & Garden
Today July 10th from 6pm onwards is Amazon Prime Day - 30 hours of unmissable deals to be had and a great chance to get that product you've been eyeing up for the past few weeks or months. Head over to the page linked and sign up for Prime so you can take advantage of all the deals on offer.
More Info - Hits: 58 - Votes: 0


SALE! Virgin Train Tickets from just £5

| Category: Holidays & Travel
This is a DEAL if I've ever seen one. The Virgin Trains sale is now on and you can score tickets to far-flung UK destinations, such as London to Birmingham, Manchester and Scotland form just £5 and there are MILLIONS up for grabs. All tickets are valid for travel between Friday 21 July and Friday 8 December so no rush to use them.
More Info - Hits: 59 - Votes: 0




Guaranteed iPhone 7 & Mobile Contracts

| Category: Mobile Phones
Sunshine Mobile specialises in mobile phone contracts for people who have struggled to get a contract before or believe they will not be accepted due to their current circumstances. Just pop a few details in their form and you will be 2 minutes away from getting the phone of your dreams.
More Info - Hits: 297 - Votes: 1




£10 off £25 Spend at The Body Shop

| Category: Health & Beauty
Hey! It's Mother's Day soon (March 26th) so thought this special offer from The Body Shop would be of interest. At the moment you can get £10 off a £25 spend when you use the code 19805 at the checkout. Valid until 13th March 2017
More Info - Hits: 36 - Votes: 0






amazon.co.uk Outlet Drop Sale Products

| Category: Shopping
At the Amazon UK's Special Outlet Discount store you can find Amazon's largest online sale selection. Shop from categories like home, health care, books, baby products, sports, and more. Amazon's Outlet is the place to find great products at discounted prices, with new items being added regularly.
More Info - Hits: 670 - Votes: 0


Virgin Media Player Bundle with 70+ Channels

| Category: Film and TV
Time to upgrade your home entertainment! The Virgin media Player Bundle is on SALE Now for just £29 per month you get 70+ TV Channels plus Superfast Fibre Broadband398 up to 50Mbps and Phone. This deal won't last long so head over to the Virgin media web site to secure this entertainment package now.
More Info - Hits: 245 - Votes: 0



Like us on facebook for another way to stay in the loop and never miss a freebie, competition or amazing deal.