(5)
(6)
(2)
(1)
(4)
(7)
(1)
(5)
(6)
(13)
(1)
(6)
(9)
(3)
(8)
(6)
(1)
(2)
(6)
(3)
(3)
(6)
(12)
(4)
(3)
(3)
(2)
(1)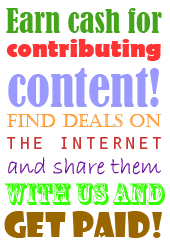 Showing offers 1 to 10 of 129

£10 off £50 Spend of Beers, Wines & Spirits at amazon.co.uk

| Category: Food & Drink
Save £10 when you spend £50 on selected beer, wine and spirits when you enter SAVETENBWS at checkout. Whatever you tipple, they have it at amazon.co.uk so well worth stocking up on your favourite drinks for Easter. Each customer can claim the offer only once. Offer ends at 23:59 BST on Friday, March 10, 2017.
More Info - Hits: 43 - Votes: 0


£10 off £25 Spend at The Body Shop

| Category: Health & Beauty
Hey! It's Mother's Day soon (March 26th) so thought this special offer from The Body Shop would be of interest. At the moment you can get £10 off a £25 spend when you use the code 19805 at the checkout. Valid until 13th March 2017
More Info - Hits: 17 - Votes: 0






amazon.co.uk Outlet Drop Sale Products

| Category: Shopping
At the Amazon UK's Special Outlet Discount store you can find Amazon's largest online sale selection. Shop from categories like home, health care, books, baby products, sports, and more. Amazon's Outlet is the place to find great products at discounted prices, with new items being added regularly.
More Info - Hits: 638 - Votes: 0


Virgin Media Player Bundle with 70+ Channels

| Category: Film and TV
Time to upgrade your home entertainment! The Virgin media Player Bundle is on SALE Now for just £29 per month you get 70+ TV Channels plus Superfast Fibre Broadband398 up to 50Mbps and Phone. This deal won't last long so head over to the Virgin media web site to secure this entertainment package now.
More Info - Hits: 207 - Votes: 0


Pay Monthly Boiler Quotes - Means-tested

| Category: Home & Garden
Did you know that a more energy efficient boiler could save you up to £350 per year, according to the Energy Savings Trust? Find out if you are eligible for a pay monthly boiler and see the best prices in your area by searching the New Boiler Cost web site.
More Info - Hits: 80 - Votes: 0


Godminster Cheese £5 off Voucher

| Category: Food & Drink
With the most romantic day of the year fast approaching Godminster Cheese are giving all of their lovely customers £5 off to spend on any gift in their online shop! I'm feeling a romantic meal with a sexy cheese board finisher.
More Info - Hits: 55 - Votes: 0


50% off Bella Italia Main Meals

| Category: Food & Drink
Over on the Bella Italia page linked you can print off a voucher, which can be redeemed in most of their restaurants for 50% off a main meal. The voucher an only be used Sunday – Friday. Some of the tasty dishes you can get 50% off include Lamb Rosmarino, Gamberoni Risotto, Pollo Funghi, Insalata Verde Salmon, Insalata Pollo Caesar, Duck Florentine and loads more.
More Info - Hits: 36 - Votes: 0


Salt Rock up to 75% off Site Wide Winter Sale

| Category: Fashion
Just found this EXCLUSIVE OFFER! The Salt Rock Winter Sale is now on with up to 75% off Site wide, Hoodies from £10, True Knitwear from £15 and T-shirts from £5. Head over to their page linked to access the sale.
More Info - Hits: 231 - Votes: 0



Like us on facebook for another way to stay in the loop and never miss a freebie, competition or amazing deal.