(4)

(6)

(2)

(1)

(4)

(7)

(1)

(6)

(6)

(16)

(1)

(6)

(10)

(4)

(10)

(6)

(1)

(3)

(7)

(3)

(3)

(6)

(14)

(4)

(3)

(3)

(2)

(1)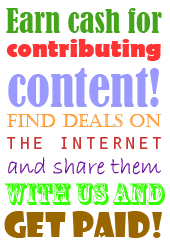 Books & Magazines
Showing offers 1 to 6 of 6









Free Copy of Auto Express Magazine

Auto Express magazine know everything you need to know about cars. If you are into cars you will love the magazine and you can get a free copy just by filling in the short form on their site linked.
More Info - Hits: 3293 - Votes: 8





Like us on facebook for another way to stay in the loop and never miss a freebie, competition or amazing deal.