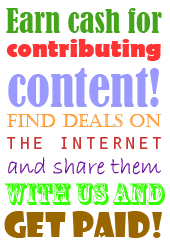 Free Credit Report from Noodle
One of Britain's main credit reference agencies is to give everyone in Britain 100% free access to their personal credit file. They are looking for 10,000 people to trial the service before it goes live so if you want to try it out then just enter your email on their web site linked.
Noodles

Hits: 2685 - Votes: 0
Related keywords for this freebie (Free Credit Report from Noodle): free credit report, noodle, call credit
Freebies, Free Samples, Free Stuff, Free Money & Finance , Money & Finance Freebies, Freebies UK, Freebies from (Noodles)


Like us on facebook for another way to stay in the loop and never miss a freebie, competition or amazing deal.