(1)
(4)
(52)
(2)
(7)
(3)
(5)
(2)
(2)
(40)
(1)
(14)
(1)
(55)
(8)
(24)
(1)
(6)
(22)
(7)
(6)
(23)
(10)
(19)
(8)
(6)
(7)
(3)
(4)
(4)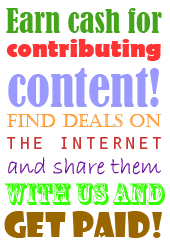 Free Credit Report from Noodle
One of Britain's main credit reference agencies is to give everyone in Britain 100% free access to their personal credit file. They are looking for 10,000 people to trial the service before it goes live so if you want to try it out then just enter your email on their web site linked.
Noodles

Hits: 1464 - Votes: 0
Related keywords for this freebie (Free Credit Report from Noodle): free credit report, noodle, call credit
Freebies, Free Samples, Free Stuff, Free Money & Finance , Money & Finance Freebies, Freebies UK, Freebies from (Noodles)


Like us on facebook for another way to stay in the loop and never miss a freebie, competition or amazing deal.


Free Hand Held Scanner & Gifts For Feedback...


Join the Nielsen consumer panel for free and they will send you a hand-held scanner. In return for scanning items you buy you will earn valuable gift points, redeemable towards gifts offered in their catalogue....

Free Sample of Weight Loss & Fat Burning Supplement


Raspberry Ketone ProSlim is a revolutionary new supplement that will help you burn fat and lose weight without strict dieting or complex exercise regimes. Request your FREE Trial Bottle today and start Burning Fat Effortlessley, Bansih Cravings and Increase Metabolism.. ....




Win 10 Tickets to Alton Towers...


Enter this competition for your chance to win Ten One Day Tickets for you and nine friends at Alton Towers Resort on a day of your choice...